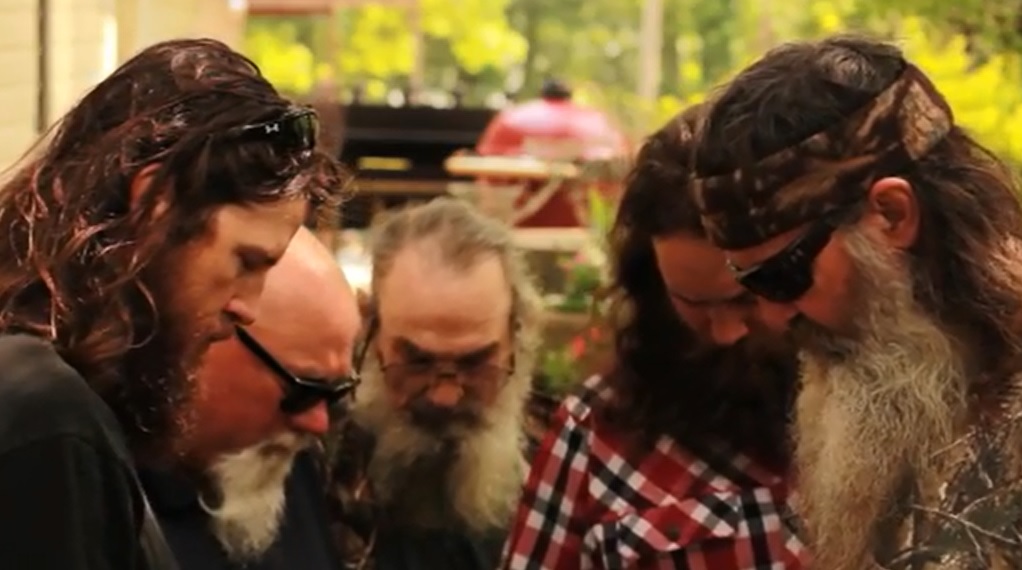 Duck Dynasty Christian faith to be tested
Oregon guest writer,
This new Duck Dynasty season will be the time when their Christian faith will be more publicized and scrutinized like never before. It starts with Duck Dynasty's patriarch, Phil Robertson, who has shared on his desire to use Duck Dynasty's new found fame as way to communicate the Christian gospel message. That is exactly is what is happening. This summer, Phil Robertson released his book, Happy, Happy, Happy, where he shared his Christian testimony and the need for Christian leaders in this country. Phil Robertson also gave a bold sermon on American Christian heritage and abortion which was made public the same month as Duck Dynasty's Season 4 premier. Also during the same premier month, Jase & Missy Robertson hit the Christian radio circuit where they shared their personal message of sexual abstinence before marriage. The religious faith of Duck Dynasty is being presented more than ever before.
Duck Dynasty's audience is bigger due to their record breaking success. Duck Dynasty Season 4 premier broke cable viewership record for nonfiction shows with nearly 12 million viewers (it even beat out network shows like CBS's "Under the Dome"). That same night Duck Dynasty beat out all other shows on social media metrics (Facebook, Twitter). This follows on the heels of their season 3 finale which also broke records last spring. Two Duck Dynasty book have been holding the top 10 bestsellers this summer. Duck Dynasty T-shirts at Wall-Mart have been leading sales for both men, boys and women.
Their stratospheric success has two unintended consequences. Number one, Duck Dynasty has reached the point where even the small things they do off-camera can potentially be made into a news story. You can see this happening as you see both hard news outlets as well as celebrity gossip shows report on small trivial stories related to Duck Dynasty. This  means anything remotely negative will made headlines – which is a pressure point on their lives, their show and their faith. The second unintended consequence of success is that it creates a huge media vacuum for opposition. As Lady Gaga once said perfectly that the public loves to watch celebrities win-it-all and then lose-it-all. The media knows this and will gladly hand a microphone to critics and amplify a critical voice.
To Duck Dynasty's credit there have not been many critics. The most famous critic incident is singer Morissey. When Duck Dynasty crew made an appearance on ABC's Jimmy Kimmel show — the scheduled musician, Morrissey, canceled his appearance. Morissey refused to play on the same program as Duck Dynasty — calling them "animal serial killers' for their duck hunting. There are populations of people who possibly might being vocal in their criticisms, such as animal rights groups, pro-choice organizations, atheists and gun control advocates. Another area of criticism might be closer to home in their very own hunting community where some  feel like Duck Dynasty promotes negative stereotypes (a prophet without honor in his own country?) The more successful Duck Dynasty becomes and more critics feel they can't avoid hearing about them in the media and it only increases the chances of critics willing to speak out.
The fact that there are people trying to recruit Willie Robertson into an open-seat run for Congress, shows the natural momentum of America to turn personal success into political success. The more politics surrounds the Duck Dynasty show whether it be rumors of Congressional runs or sermons on abortion, the more you attract the counter-political forces.
Sometimes success or the backlash can ruin celebrities. It is interesting to note that Jase Robertson revealed in a Christian University interview on how when they first started filming Duck Dynasty he overheard the camera crew saying how the show would eventually tear the family apart — a most predictable occurrence in reality shows or new celebrities. Jase knew at that moment that the prediction would not be true but actually could make the family ties stronger. I think he proved right.
It is for these reasons that I believe that this new 2013-2014 season of Duck Dynasty will likely be the season when their faith gets tested. Even if the family faces opposition – I think they will handle it with honor and grace and could prove to be a teaching moment for others.
—  Jacob Martin is a a guest writer living in Oregon (1)