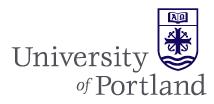 By University of Portland
Lecture on "Deadly Drones" by Notre Dame law professor Mary Ellen O'Connell is set for 7 p.m. Monday, Oct. 28 on University of Portland campus
Notre Dame law professor Mary Ellen O'Connell will speak on "Deadly Drones" for the Hesburgh Lecture at 7 p.m. Monday, October 28 in Buckley Center Auditorium on campus, 5000 N. Willamette Blvd. The lecture is free and open to the public.
O'Connell's lecture looks at the legal, moral, and strategic challenges of the U.S. use in combat of unmanned aerial vehicles (drones) to fire missiles and drop bombs.
"The C.I.A. uses drones to target enemy leaders on its 'watch list," O'Connell stated in an article published in the March 15 issue of America Magazine, "but the attacks inevitably kill many people who are not on the list, including innocent women and children."
O'Connell is a research professor of International Dispute Resolution at the Notre Dame Kroc Institute. She also is the Robert and Marion Short Professor of Law, a position she has held since 2005. O'Connell's research focuses on international legal theory and international law on the use of force. She has authored and edited numerous books and articles, most recently What is War? An Investigation in the Wake of 9/11 (2012); International Dispute Resolution, Cases and Materials (2012); The Power and Purpose of International Law, Insights from the Theory and Practice of Enforcement (2011); and The International Legal System: Cases and Materials (2010).
She is currently vice president of the American Society of International Law and chairs the International Law Association's Committee on the Use of Force, which just completed a five-year study of the definition of armed conflict. She chaired the Use of Force Committee of the International Law Association from 2005 to 2010. She testified recently (on May 22, 2013) before the House Judiciary Committee's Hearing on Protecting U.S. Citizens' Constitutional Rights During the War on Terrorism to clarify the basic fundamental human right to life, liberty and to a fair trial during the war on terror, especially since 9/11.
She has spoken to a wide variety of audiences about the international legal restraints on the use of force and the origins of those restraints in the Catholic Church's Just War Doctrine.
This lecture is co-sponsored by Notre Dame Alumni Club, Portland Chapter and the Garaventa Center for Catholic Intellectual Life and American Culture.
For more information, please contact Jamie Powell of the Garaventa Center at (503) 943-7702 or [email protected] .