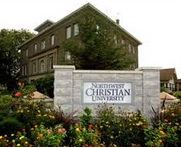 NW Christian school OKs atheist PresidentBy Faith News Note:
Northwest Christian University's new student body president is an atheist. The new student president, Eric Fromm, is public about his beliefs but did not stand int he way of getting the approval from the school. Instead the university praised him as a great advocate for students which is what the position is about.
The story has made national news. Read the ABC story here.