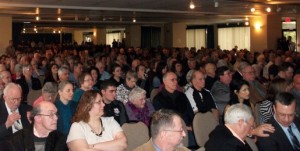 Event to celebrate religious liberty reaches maximum attendance for large hotel
By Faith News Note:
Last weekend several conservative groups held a religious liberty, life & fiscal responsibility event in Clackamas. With under two weeks to announce, the event drew 750 participants and had to stop RSVP's due to capacity of the Monarch Hotel. The event was organized by Oregon Right to Life, Oregon Family Council, Common Sense for Oregon and the Anti-Crime Alliance.
Speakers at the event included Carol Tobias, President of National Right to Life, Oregon State Party Chair Aret Robinson, as well as several State lawmakers including Rep. Jason Conger (candidate for U.S. Senate), Rep. Bill Kennemer, Rep. John Huffman and Rep. Vic Gilliam. An attendee at teh event said teh event was good-spirited and optimistic in ligth of the heavy challenges facing Oregonians.
The Oregonian noted.
The big turnout pleased organizers, who said they weren't sure what to expect when they first announced their break-off rally."It sends a message that these issues are still important," said Teresa Harke of the Oregon Family Council, one of the rally's sponsors. "We can't desert our principles."