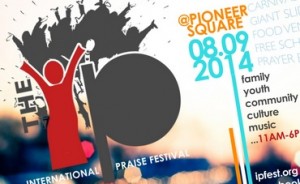 International Praise Festival
IP Fest is an International Praise Festival promoting unity among body of Christ through different cultural presentations, foods, family fun activities and a very good message of Jesus Christ. August 9th, 2014, 11am to 6pm.
Join us for an AWESOME day of:
– Praise Music
– Cultural Dance/Music
– Family Fun Activities
– Community Resources
– and a Very Good Message of Hope in Jesus
It's a community-wide event for the city of Portland to celebrate many different churches, yet ONE in CHRIST.
You can feature your organization for only $300 (with a 10×10 space to setup a vendor booth for the entire duration of the festival to promote your products & services). Vendors are required to provide their own white canopy, tables, chairs and generators (if needed). The deadline for booth space is Thursday, July 31. For more information please visit www.ipfest.org or call Mark Jackson at 866-915-1918.
Download the Full Sponsorship Information Packet
The IP Fest network of churches welcomes you to share in an evening of prayer and worship on Sunday, July 27, 6pm at Cathedral of Praise Ministries located at 1821 SE 39th Avenue, Portland.
Date: Saturday, August 9, 2014
Time: 11:00 AM – 6:00 PM
Website: More Info
Location: Pioneer Courthouse Square, 701 SW 6th Ave, Portland, OR
Contact: Mark Jackson, 866-915-1918
Email:[email protected]
Date/Time Details: Saturday, August 9th 11:00am-6:00pm
Admission: FREE Admission