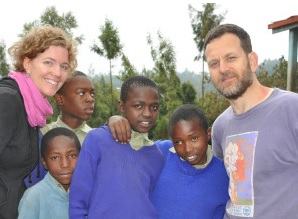 Forest Grove community bands together to remember two children killed in fatal crash
By Michal Ann McArthur,

The Forest Grove community has banded together to remember two children killed in a fatal car accident one year ago. On October 20, 2013, two stepsisters, Anna Dieter-Eckerdt (6) and Abigail Robinson (11), were playing in a pile of leaves across the street from their home when they were struck by a hit-and-run driver. Anna was killed instantly; Abigail died later in the hospital.
This October on the anniversary of the tragedy, firefighters blocked a portion of Main Street for an hour while firefighters, friends, and neighbors gathered around the girls' memorial tree to show their support. Many neighbors also set out candles in white paper bags in front of their homes at sunset to honor Anna and Abigail, something the girls' parents, Susan Dieter-Robinson and her husband, Tom Robinson, have been doing each night since the girls were killed. Since October 7, neighbors have been raking and hauling away leaves in the Robinson's yard three times a week.    The Robinsons have been relying on their faith in God to help them survive and rise above the personal crisis.   They share on how they know that many families that endure a loss of a child often divorce at an 80% rate following the tragedy.   This made it more important to rely on God for strength and direction that they did not have themselves.
In the Tom McCall Upper Elementary School, Abigail's classmates created a memorial of 1,000 paper cranes, each containing a memory. At Anna's school, Dilley Elementary, in an enclosed garden between two carved angels, a large stone was placed, engraved with the words, "Anna and Abby's Memorial Garden 2013."
After the accident, donations to the grieving family poured in from people all over the country. Local businesses hosted fundraisers. By March, 2014, the Dieter-Robinson Memorial Fund had grown to more than $50,000. Susan Dieter-Robinson, Anna's mother and Abigail's stepmother, plans to use the funds to create a playground across the street from their home where her girls often played. Monkey bars and a slide are there now, but Robinson wants to transform the area into a full-fledged playground. She has solicited ideas for the playground from a panel of children who knew the girls. The city of Forest Grove will help with the project.
After Abigail died, her parents made the agonizing decision to donate some of her organs to help save the lives of others. Some months later, a man who had received one of Abigail's kidneys wrote the family a thank-you note. The note gave the Robinson's joy in the midst of their sorrow. An Abigail Gifts of Life event was organized at Forest Grove High School to encourage others to consider donating their organs.
The Robinson family has been overwhelmed by the support and comfort they have received from their community.
The Robinsons also went to Kenya to help out local children and a Special Olympics program.   There they were able to meet one of their sponsored kids and help provide him the financial and faith support to endure tragic events in his life.   Their life in Kenya was shared at a recent Forward Edge International charity event in Portland.