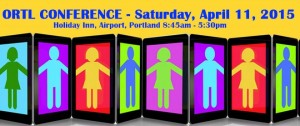 ORTL Event Press Release,
Oregon Right to Life is hosting an all day conference on Saturday April 11th at the Portland Airport Holiday Inn.
Some of the topics include; Embryos, cloning, and the Brave New World, Understanding and Responding to Bodily Rights Argument, What's happening at the Capitol and how to lobby effectively, Life or death–importance of filling out advance directives, Effective use of social media to How Obamacare is set up to help the abortion industry.
For more information go here.SPEAKERS INCLUDE:
Josh Brahm: Josh, the newest pro-life evangelist to effectively reach the student generation, is the President of Equal Rights Institute, an organization dedicated to training pro-life advocates to think clearly, reason honestly and argue persuasively. He has worked in the pro-life movement since he was 18, and has directed 40 Days for Life campaigns, Justice for All seminars and outreaches, and debated leaders from Planned Parenthood and other leading pro-abortion organizations.Josh's passion is for training youth to effectively reach their culture. He does so through energetic, humorous training, focusing on rigorous philosophy and relational apologetics.
Angela Lanfranchi, MD FACS: Angela Lanfranchi, MD FACS, is a breast cancer surgeon practicing in New Jersey since 1984. A 1975 graduate of Georgetown School of Medicine, she is a clinical assistant professor of surgery at Rutgers Robert Wood Johnson Medical School, a Fellow of the American College of Surgeons, and certified by the American Board of Surgery. She is surgical co-director of the sanofi Breast Care Center at the Steeplechase Cancer Center in Somerville, New Jersey. She is co-founder and president of the Breast Cancer Prevention Institute, a non-profit charitable corporation that has as its mission to educate lay and professional communities in the methods of risk reduction and prevention of breast cancer through research, publications and lectures.
Kristan Hawkins: Kristan was hired in 2006 to lead Students for Life of America (SFLA). Since launching SFLA's full-time operation, Kristan has helped more than triple the number of campus pro-life groups in the United States, from 181 to almost 800 in 49 states.As President, Kristan directs the mission and strategy of Students for Life of America. In addition, Kristan serves as the organization's official spokeswoman and has appeared on Fox News, CNN, MSNBC, EWTN, Family Talk with Dr. James Dobson and the Christian Broadcasting Network. A dynamic speaker, Kristan travels the country talking to students and adults alike on a wide range of topics including Planned Parenthood, Real Feminism, Real Social Justice, Pro-Life Activism and Leadership.
Fr. Tad Pacholczyk, Ph.D: Father Tad is the Director of Education at the National Catholic Bioethics Center. The NCBC promotes research, consultation, publications and education on human dignity in health care and the life sciences. Father Tad earned his doctorate in neuroscience from Yale University and did post-doctoral studies at Harvard University. He subsequently studied in Rome where he did advanced studies in theology and in bioethics. He quickly became a leading church spokesman on what he calls beginning-of-life and end-of-life issues. He's been outspoken in opposition to human cloning and embryonic stem cell research and speaks extensively throughout the US on a variety of life issues. Father Tad is the author of a column called Making Sense of Bioethics that appears in various diocesan newspapers across the country.
Workshop Speakers
Charles J. Bentz, MD, FACP: Charles J. Bentz, MD, FACP:is a general internist in private practice at the Fanno Creek Clinic in Portland, Oregon . He continues to practice hospital-based medicine and has over 25 years experience in caring for patients nearing the end of life. Dr. Bentz serves as the Medical Director of the Pacific University School of Physician Assistant Studies. He is also a Clinical Associate Professor of Medicine in the Division of General Internal Medicine and Geriatrics at Oregon Health and Sciences University (OHSU). Dr. Bentz is Past-President of Physicians for Compassionate Care Education Foundation.
Dan Lucas: Dan Lucas is a former analyst at a major Cold War spy station in Berlin, and is an independent researcher and policy advocate. He is the Chief Editor for the political blog Oregon Catalyst and he is a regular columnist on the Salem Statesman Journal editorial page.
Dan was interviewed by Neil Cavuto on national television and he has written a number of research articles on health care reform and a variety of political topics. Dan ran for State Representative in Oregon in 2010.
Liberty Pike: Liberty Pike is Oregon Right to Life's director of communications. A graduate of Eastern Oregon University with her bachelor's in business administration, Liberty has been a speaker for ORTL for five years. This has involved church and campus groups as well as conferences. She also served as college liaison, supporting students around the Northwest. She is a board member and has worked on community education projects. Her passion and concern are demonstrated as she educates and stimulates conversation about pro-life issues. She and her husband have a young daughter, and motherhood has further fueled her desire to protect the pre-born and help women see their children as gifts, not crises.
Dr. William Toffler: Dr. William Toffleris co-founder and National Director of Physicians for Compassionate Care Education Foundation (PCCEF), a non-profit organization that promotes compassionate care for severely-ill patients without sanctioning or assisting their suicide. PCCEF physicians affirm an ethic based on the principle that all human life is inherently of value and that the physician's roles are to heal illness, alleviate suffering, and provide comfort for the sick and dying. He is committed to defending the long-standing medical prohibition against doing harm and has worked actively to support human life from conception to natural death. He is frequently invited to speak about these and other medical ethical issues at both regional and national conferences. Dr. Toffler has been a member of Focus on the Family Physicians Council for the past seven years.
Deborah Tilden: Deborah Tilden: is a pro-life speaker, writer, and advocate who believes in communicating the truth in love about the injustices and harm done to women, men, the unborn, and society by abortion. She is an Oregon Regional Coordinator for the Silent No More Awareness Campaign, an Ambassador for ARIN – Abortion Recovery InterNational, a speaker for the Oregon Right to Life and a member of the ORTL/ORTLEF Board. Based on Deborah's personal abortion experience and healing journey, she says, "I simply bought into the lie, 'it's just a blob of tissue.' It was a cover-up of epic proportion." Deborah believes that the time has come to blow the lid off the lies of abortion. She wants to see abortion become UNTHINKABLE through compassionate, non-judgmental education and healing ministries.
Terri Nordone: Terri Nordone has had a very interesting career background after attending University of Oregon. She began her varied career life in the 1970's as a land man for oil and gas companies who were doing exploratory drilling in the Pacific Northwest. She changed career direction in the 80's when she attended floral design school and opened her own floral and gift boutique. Another big move came in the 90's when Terri lived out her dream of working under her father's watchful gaze as he taught her the family business of home construction. She then started her own successful construction company in which she was a general contractor for 12 years. In 2004 Terri lived her 30 year dream of going to culinary school graduating from the Le Cordon Blue Patisserie & Baking program at Western Culinary Institute and has since started her own chocolate manufacturing business in Salem, Posh Ganache Handcrafted Chocolates. However, her true passion, purpose and ministry is helping post-abortive woman experience peace, find healing and be set free from the shame, guilt and bondage of their past decision to abort their child. Terri started the Salem Chapter of SaveOne in 2006 and has since seen many women find freedom from abortions devastating effects. In addition to offering 3 SaveOne classes per year, she now is a SaveOne chapter Coordinator overseeing chapters in California, Oregon and Washington.
Lori Porter: Lori Porter has a Masters in Teaching as well as in Business Administration and was a public school teacher for 22 years. She is co-founder of the grassroots organization "Parents' Rights in Education". Over the last four years, Lori has gathered copious amounts of evidence that clearly reveal that the Oregon Department of Education (ODE) believes that "they know better than you what is best for your child and that they are the guardians of our children's health. Lori has uncovered numerous venues in which the ODE and other partnering agencies are advocating health care-related resources and services to minors without parental knowledge or permission; intruding on the innocence of children and the rights of parents. Parents' Rights in Education endeavors to share practical ways that busy parents and guardians can successfully challenge the explicit sexuality education curriculum and undertakings that are being implemented in their child's school.