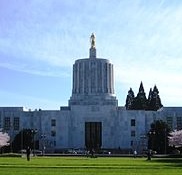 By Oregon Faith News Note,
Senate bill would require religious employers to provide health insurance to cover abortions
If Senate Bill 894 passes, religious employers would be required to provide health insurance covering abortions for their employees. The bill does not exempt religious employers from the requirements that health insurance plans cover women's reproductive health care, including contraception, abortion, and preconception and postpartum care. The bill also limits cost-sharing for services and drugs used to terminate pregnancy. The coverage under a health benefit plan for services or drugs used to terminate a pregnancy may not impose a co-payment or coinsurance that exceeds 10 percent of the cost of the service or drug and may not be subject to a deductible.
The bill declares that restrictions on abortion coverage interfere with a woman's right to make personal decisions regarding her own body and negatively impact her health and well-being. Restrictions also deny her constitutionally protected right to a safe and legal medical procedure.
Those opposed to the bill, like Oregon Family Council,  argue that it forces religious organizations to violate their consciences and set aside strongly held moral values. They believe SB 894 infringes on their religious freedom.
The bill has over 30 sponsors and has been passed on to the Senate health care committee.
You can read the full text of SB 894 here.