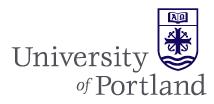 By University of Portland
University of Portland professors to present lecture on Early Christian Baptisms, May 28
University of Portland professors Alejandro Santana, philosophy, and Rev. Richard Rutherford, C.S.C., theology, will present a lecture titled "The Archeological Footprint of Baptism in Early Byzantine Christianity" on Thursday, May 28, at 7 p.m., in St. Dimitrios Hall of Holy Trinity Cathedral at 3131 NE Glisan Street.
The lecture will explore the study of early Christian baptisms, specifically as they were celebrated in the first centuries of Christianity. The lecture is free and open to the public.
For more information contact Santana at [email protected] or Rutherford at [email protected].