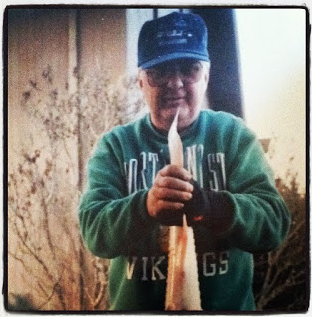 by Rick Johnson
Better Dads Ministry,
Gresham, Oregon
"I love you, too" were the final words my dad would say to me before he passed away. Can greater words ever be spoken amidst the knowledge that a final hour was drawing near?
I am one of the blessed ones. Not all have had such an opportunity. Many of my friends either never knew their father or wished they had never met their father. For them, my heart breaks.
Dad was forty years older than me. In comparison with most of my friends, he came from another time. His time was the time of many of their grandparents.
To me, he was simply dad.
Certainly his taste of music was from another time as well. Jazz was always on, especially that of the big band era. We used to sit and talk with the jazz playing all day long.
Nobody and I mean nobody could tap their finger to the beat of jazz like dad could.
Me and dad used go play a lot of golf growing up. There's was that time we were nearly hit by a lightning bolt and immediately high tailed it back to the clubhouse. I never saw my dad run that fast. I never saw him that mad either at the fact I was in hot pursuit of his mad dash nearly stumbling over myself laughing so hard. Of course, we took a rain check and just drove to the next golf course and played. Had the storm passed? Not really. But dad wouldn't let a little thunder and lightning hinder golf.
For those that knew my dad, he wasn't known for a lot of words. Matter of fact, at first, many of my friends wondered if he even liked them. But sooner or later, they'd see dad in full bloom.
There are two characteristics about my dad that after ten years since he passed seem to really stand out. First, dad was the funniest person I ever knew. He had this dry sense of humor that just killed it every single time. I remember as a kid watching TV with dad. I loved watching him laugh at the TV.
I knew that if it made dad laugh, it was funny.

As I reflect on this, watching dad laugh at a TV show didn't stop when I grew up, it kept going. Seeing dad laugh was a gift. To make dad laugh was priceless.
I recall many times the last few years of life where my dad was at an event or something I was hosting or had to play host. With those duties always came a felt need for me to entertain people. I too love to make people laugh. But in those events, if I could make my dad laugh… no words could describe it. Just thinking about it now brings tears to my eyes. It was like, atta boy.
My dad was also an unbelievable listener. There was never a time as I grew older that I remember speaking with my dad and him seeming distracted. He would listen intently. He wouldn't say many words, if any until you were done. It was as if he wanted you to work it out. Never once did I ever felt like screaming… say something!! I knew it would it come.
Because while he was listening, he was listening.
That's not a typo. He wasn't thinking about what he was going to say in response. He wasn't falling all over himself to interrupt my words to offer his feedback. While dad listened, he simply listened.
Someday, I hope I can master such patience, confidence, and wisdom because in his ability to do this always came the perfect resolve.
Dad was also that one person that I grew to appreciate more and more as I grew older that could turn my fear into peace. With a forty year difference, it wasn't always easy. Being human, we're always growing.
Fortunately for me and dad, we grew towards each other and not apart.
To this day I remember like it was yesterday being wheeled away for back surgery. I had never experienced surgery like this. I was extremely nervous, but after over a month of extreme pain, it had to be done.
Dad knew my nervousness. At the time, I did not know he would be gone two years later. Dad was the last person I saw as they wheeled me away. What he did that very moment was something I had never experienced from him in my entire life. He reached out his hand to me and gave me a look I will cherish forever. As I grabbed his hand, his look said one thing… it will be ok. I sit here a mess as I type this.
"I love you, too" were the final words my dad would say to me before he passed away. Can greater words ever be spoken amidst the knowledge that a final hour was drawing near?
Hearing those 4 words before he died after never once hearing them growing up was beyond words. I lived my whole life seeking to hear them. Perhaps that which I sought to hear was all along being played out in that which I had been seeing?
Shortly before my dad passed away from cancer, he also had a stroke. I remember his doctor telling me and mom that he didn't wish this on his worst enemy. It was hard seeing someone you love drift away into a place where their old self would not be seen again.
Often times during that season I would be with dad and know he really wanted to say something but couldn't get the words out. You could see the struggle. He didn't want you to see the struggle, but you did. But what you couldn't hear, you could feel. If you could feel emotion from that which you were seeing, dad's heart was on full display and not like anything I had ever seen before.
Searching my whole life to hear my dad say I love you through the lens of this changes everything. Though he may not have said it, looking back on these memories, I sure did see it.
If you could feel emotion from that which you were seeing, dad's heart was on full display this whole time and I didn't hear it. Why? Because perhaps I was never meant to hear it but rather instead… experience it.
And as I look back, I sure did. ..I sure did.
Dad, I love you. I miss you. On this Father's Day in 2015, I honor you.