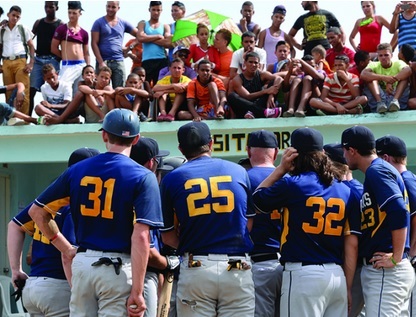 Corban University,
Salem, Oregon
There is a popular phrase: "Timing is everything." For the Corban University baseball team, that phrase could not have been more true when the Warriors traveled on a historic Mission Trip to Caimanera, Cuba. As the first American baseball team in Caimanera in nearly 60 years, and one of the few American teams to ever play on Cuban soil since the Cuban revolution of 1959, the local Caimanera population was ready for a message. That message that Warrior Head Coach Jeff McKay and the entire team delivered was one that would ring through the streets and set the stage for generations to come. Seeds were planted and bricks were laid. The future for Caimanera and Cuba is now, and that future is bright.
It was a story in itself in how God chose Corban and the Warrior baseball team to go and be ambassadors for Christ in Cuba. A little more than a year ago, Cuban native Glenn Wilson, who is a pastor that now lives in New Jersey, began working with Mike Silva of Sisters, Oregon, to bring a baseball team to Cuba to do missionary work. Through prayer and varying connections, Silva and McKay became connected and the idea was presented to bring the Warriors to Cuba on a Mission Trip. With baseball being Cuba's national sport, God used baseball and Corban as an avenue to impact the world and spread the gospel of Jesus Christ. Following months of prayer, planning, preparation and more prayer, the Corban baseball team was ready to embark on the historic mission trip.
"The Warrior players truly embraced the opportunity through obedience to God to go and be ambassadors in Cuba," said McKay. "The effort and faith that it took to trust God to provide the finances, safety, and spiritual protection was something that was not easy, but each of the guys truly made a difference in the world for Jesus Christ. It was God accomplishing his will through us."
To read daily highlights, watch videos and view photos of the trip, click here.