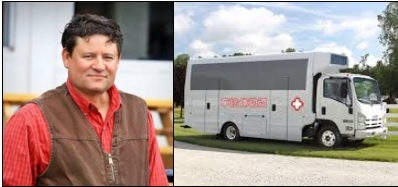 Mobile medical clinics get green light
By Taxpayer Foundation of Oregon
A bill (HB 3139) sponsored by Rep. Cedric Hayden was signed into law on May 21, making it easier for mobile medical clinics to go into communities to provide much needed medical and dental care. The law prohibits local government from preventing mobile clinics from parking on private property for not more than 180 days. The nonprofit mobile clinics, staffed by volunteers and supported by donations, serve uninsured Oregonians who otherwise might not be able to afford care. About 5% of Oregonians do not have health coverage.
Some patients may have health coverage but, as Rep. Hayden observed, "Having health coverage doesn't always equal having access to care." In rural Oregon many people have no access to health care because the population is too small to justify building a health center.
Before HB 3139 was passed, Rep. Hayden's mobile medical clinic worked out of nonprofit organizations' parking lots and could not stay overnight. Rep. Hayden, himself a dentist who has worked for years giving free dental care to the needy, saw the need for more stable service in a community. In order to get the law changed, Hayden ran for the state legislature, got elected, crafted HB 3139, and sponsored it. The bill passed unanimously and was signed into law. "The bill will open a lot of doors for us and for other people," said Hayden.
Mobile medical units can now go into a community, stay for 2-3 months, and move on to another community. "In a year or so, you're covering four times the territory geographically for the same cost infrastructure," said Hayden.