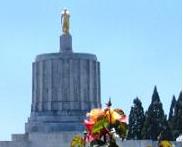 There has been a lot of back and forth on the proposed Oregon Planned Parenthood hearings in Salem. Here is a quick breakdown of what happened and what both sides have said.
By Faith News Note:

In light of national news over Planned Parenthood videotapes and Congressional Hearings, 19 Oregon House Republicans made a call to hold hearings in the State Capitol next week during a seasonal gathering of Legislative hearings.
State Representative Jodi Hack issued this reason for the hearings.
"We now know that a Planned Parenthood affiliate in Oregon has entered into at least one agreement with a taxpayer-funded institution to transfer placental tissue within the state. The people of Oregon deserve to know what other transactions are taking place and how much taxpayer money Planned Parenthood is receiving through these transactions. Additionally, we need to find out if laws are being broken or ignored."
The Chair of the House Committee on Health Care, Rep. Mitch Greenlick, agreed to the hearings. The House Speaker Tina Kotek requested that the meetings be canceled stating in a release that the videos at the center of the controversy are "misleading" and that the hearing was becoming too political.
Committee Chair Rep. Mitch Greenlick added…
"There was no probability of having anything short of high political drama, so I agreed with her recommendation to pull it off. "It became clear it was going to become a distraction, a political circus."
The House Republican office responded to the cancellations by saying…
"Instead of allowing for an open dialogue and proper oversight of an organization receiving taxpayer funds, Tina Kotek and Salem Democrats have decided to double down on the same backroom politics they've become well known for."
No media update on what may happen next.