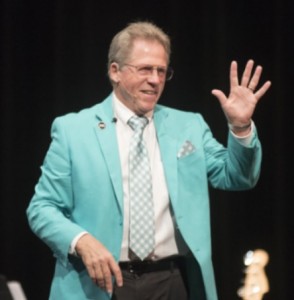 Corban University,
Salem, Oregon
Al Egg, chaplain of the NBA Portland Trail Blazers, challenged Corban students during Friday's chapel to cultivate a deeper relationship with Jesus Christ. Egg has served as the Trail Blazer's chaplain for over 30 years and is also involved in ministry at Portland State University.
"How do you know you are a Christian?" Egg asked. "Just being at a Christian university does not make you a Christian."
Egg identified three different types of people who come to chapel or any church service: seekers, believers and followers.
Egg described one major difference between a believer and a follower: A believer might share the gospel if an opportunity presents itself, while a follower looks for opportunities to share the gospel.
"It's in their heart to share Jesus with anybody and everybody," he said.
Followers also devote time to develop their relationship with God through reading the Bible, cultivating their prayer life and spending time in fellowship with other believers.
"Followers keep first things first and the first thing is God," he said. "For me, I don't allow anything to take my devotion time away. I spend time with God every single day."
Egg stressed the importance of prayer in the life of a Christian.
"For a lot of believers, prayer becomes a last resort," he said, "but I believe for followers it is a first recourse."
Egg keeps a prayer list that includes the names of people he prays for each day to "receive Christ." He told the following story of one name on his list.
Eighteen years ago Egg officiated at a wedding in Los Angeles. At the reception Egg noticed a woman who was sharing Jesus with some of the guests. She introduced herself as Roslyn Jordan, the little sister of Michael Jordan. Roslyn asked Egg and his wife to pray for Michael's salvation.
"I've prayed every day for 18 years for Michael Jordan's salvation," Egg said.
Egg called the Bible "the playbook for life." In football, an audible is a last minute change to the play before the ball is snapped.
"I've learned that the Holy Spirit calls audibles in my life," Egg said.
He said the only way to know what the Holy Spirit is calling someone to do in those situations is for him or her to know the playbook.
While preparing to speak at a Young Life basketball camp, Egg asked retired Trailblazer Brandon Roy if he should talk to the campers about Jesus.
"Absolutely, Al," Roy said, "because without Jesus nothing else matters."
Egg contends that most believers have probably never considered that.
"But I think true followers understand that without Jesus nothing else matters," he said. "It also follows that with Jesus everything matters."
A rare occurrence happened during Egg's closing prayer–he invited seekers at Corban to accept Jesus Christ into their lives. He also invited "backsliding" believers to "slide back to Jesus."
By David Giglio, Corban journalism student