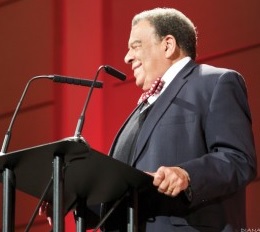 By Christian News Northwest
Subscribe
Perhaps the largest turnout ever for Portland Business Luncheons' Christmas event — more than 1,100 people — heard the compelling testimony of a man who has both made history and witnessed history.
Rev. Andrew Young has been in the public eye for decades as an American politician, diplomat, activist and pastor from Georgia. A supporter and friend of Rev. Martin Luther King Jr., Young was a key figure in the 1960s civil rights movement spearheaded by King. Young then went on to serve in Congress, as U.S. ambassador to the United Nations under President Jimmy Carter, and as mayor of Atlanta. Since leaving political office in 1990, Young has served with various organizations founded on public policy, political lobbying and international relations, with a special focus on Africa.
Yet even with such a lifetime of accomplishment, Young, 83, humbly acknowledges that it wasn't his doing, but was instead orchestrated by a loving God who stands ready to guide all who follow Him into lives full of purpose.
"That's how life has worked," Young said to the luncheon crowd Dec. 17 at the Oregon Convention Center.. "No plans. No ambitions."
In fact, Young, in most cases, not only avoided pursuing a specific course, but instead — because of his admitted frailties as a human being — often tried to stay away from what God was clearly setting out for him.
"Every good job I ever had, I tried to run from them," he quipped.
But time after time God showed His goodness anyway, Young emphasized.
"In the 83 years God has given me, I have determined, as I look back, that my life has been one constant blessing," he said. "I don't know anyone who has had more opportunities and blessings bestowed on them, than me."
Such a blessed life is designed to be purposeful — a lesson Young said he learned at an early age from his grandmother, who taught him that much is required of those who receive heavenly favors.
She told me, 'God don't waste His blessings,' '' he recalled.
One of the "jobs" he said he would logically have tried to avoid was being on the front lines of the emotionally charged civil rights battle in the deep South. He said Martin Luther King really didn't desire to be a leader of such a movement, nor did he. When it comes to such confrontational situations, "I ain't looking for it," Young said.
But in the civil rights struggle, there was no choice but to be involved because it was seen as a divinely inspired effort, he said. "The Spirit of Jesus moving through the hearts of men and women in desperate need, changed the way America looked at race."
Young was jailed for his participation in civil rights demonstrations, both in Alabama and Florida. The movement gained congressional passage of the 1964 Civil Rights Act and 1965 Voting Rights Act. Young was with King in Memphis, Tenn., when King was assassinated in 1968.
After serving more than four years representing a Georgia district in Congress, Young was appointed to the U.N. ambassadorship — the first African-American to hold the position. He served for two years.
Two years later, although initially reluctant to do so, he ran for mayor of Atlanta at the strong urging of friends. He was elected to two terms, receiving 80 percent of the vote the second time. During that time he played a key part in efforts that successfully brought the Summer Olympic Games to Atlanta in 1996.
As a prominent political leader and activist, Young has dealt with his share of controversy throughout his lifetime. But in the ups and downs, his faith in Jesus has provided a firm foundation over these many years, he said.
"This is what I understand is Jesus in my life," he said, "That if I would go where He led me, everything would be all right."
That thought prompted Young to lead the luncheon crowd in singing an old spiritual, "I got a feeling, everything's going to be all right…."
Young then urged all those present to remember to focus on the eternal things of God and realize that He can help each individual through the temporal challenges of this world.
"Because the Lord is still on the throne, our lives are far more spiritual than they are material. The Spirit, the Lord of life, is going to make sure that everything's going to be all right," Young concluded.
Christ-centered testimonies have been shared at Portland Business Luncheons for almost three decades. For more information, go to pdxlunch.com