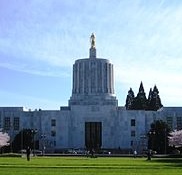 Faith part of GOP & Dem brother bond
By M. Martin,
The Oregonian has featured a wonderful story about Oregon Democrat State Representative, David Clem, falling into an unlikely abiding friendship with Republican State Representative, Vic Gilliam. Once political opponents who tussled over issues now find a rare friendship with one of the connecting bonds is their faith. Such faith was needed as Clem wrestled with retiring early from politics and Vic Gilliam battling the unforgiving and debilitating ALS disease.
Early discussions over politics, family and faith were at the beginning of their friendship, and continue to this day. as The Oregonian reports:
"Clem and Gilliam went to Gilliam's office, feeling defeated. They read from their favorite prayer book. The message for that day: God works in the unseen. They sat for a while longer, with Gilliam's daughter, reading handwritten notes from other lawmakers. It was then that Gilliam concluded they hadn't failed at all. He looked at Clem, his friend. 'The relationships we form, these experiences we form,' he said, 'are greater than any marble statue.' "
This Oregon Capitol friendship is similar to another bipartisan solidarity story formed more quickly and under more dire circumstances. Republican Alan Olsen was suffering chest pains in office and decided to reach out to Democrat Senator Alan Bates who is an osteopathic primary care physician. That may have saved his life as Bates diagnosed correctly that it was a heart attack and got him to call 911. Olsen survived, and later said, "It's got nothing to do with politics. It's got to do with people." A month previous to this heart attack, Senator Alan Olsen was headlining a mayor's prayer breakfast.   Maybe his prayers were answered in a way beyond his foretelling or expectation.