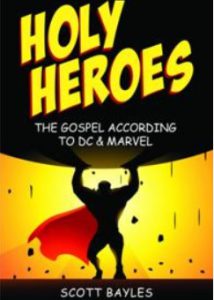 By Judson Press,
What does a comic book superhero have in common with the gospel of Jesus Christ? Readers will learn this and more in the new Judson Press title "Holy Heroes: The Gospel According to DC & Marvel" by pastor and author Scott Bayles.
Likening the legends of superheroes to modern-day parables, Holy Heroes connects the timeless truths of God's Word with the stories of Batman, Wonder Woman, Cyborg, Spider-Man, Green Lantern, the X-Men, and others. With fascinating insight and surprising depth, Bayles unpacks those truths and helps superhero fans draw near to the heart of God in a relatable, relevant way.
Holy Heroes builds a bridge from the fictional world of superheroes to the one true superhero—Jesus Christ.
The book features cosplay photos to introduce each character and includes discussion questions for small group study.
To order Judson Press resources, visit www.judsonpress.com or call 800-458-3766.