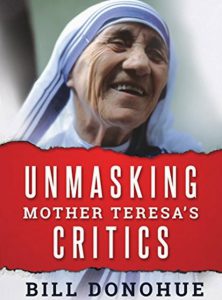 Press Release,
Mother Teresa was voted the most admired person of the 20th century, and is loved the world over. Still, she was not without her critics. This book closely examines their accusations.
What virtually all of her critics have in common is an unabiding disdain for Catholicism and most were, or are, militant atheists. Their strong embrace of socialism is another conspicuous characteristic. What they abhor about Mother Teresa is her strong faith and her altruism.
Mother Teresa's conviction that life begins in the womb, and that abortion is a violent act, does not sit well with her atheist critics. They are also contemptuous of her private, voluntary efforts to tend to the needs of the poor: socialists see such behavior as a deterrent to state programs, the only ones they find acceptable.
No one was more harsh in his criticism of Mother Teresa than Christopher Hitchens. He locked horns many times with Bill Donohue, and some of those exchanges are recounted in this volume. Neither man was shy about defending his position, and both let loose on each other.
This book, unlike the work of Mother Teresa's critics, offers plenty of evidence; the sources are amply noted. Those who have been curious about the charges made by her detractors will find this book an invaluable resource. It unmasks her critics and puts to rest the cruel myths they promoted about her.