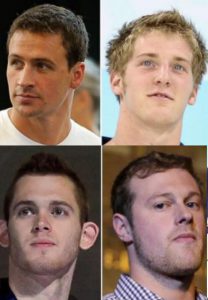 Lying swimmers should return to clean-up Rio
By M. Martin
Oregon writer
U.S. Olympic swimmers Ryan Lochte, Gunnar Bentz, Jack Conger and James Feigen told Rio's Civil Police that they were robbed at gun point. Several of the swimmers have come forward to retract their story. Now that they all face possible sanctioning in addition to the crush of worldwide negative press one has to ask what now?
A great ethical choice is to turn the scandal into a moment of redemption. These swimmers need to return to Rio to help clean up the Olympic aftermath. If Rio was known for the mess during the Olympics (polluted water, beach trash) then it will only be worse after the Olympics. The swimmers should not hide in the safety of America, but rather return to the place where their mistakes were made. They should do this clean-up without fanfare or publicity. They should stay for several weeks in the clean-up just like someone from our country would do in community service. Doing this is not only the right thing to do, but it could favor well on their punishments.
Any swimmer who does this would be remembered for doing it whenever their scandal is mentioned in the future. That to me, means you have worked towards redemption and became a better person because of it.