I'm excited to share about a new graphic novel version of the Bible that's now available, called The Kingstone Bible. It's released by my friends at Kingstone Media, a publisher dedicated to producing quality graphic novels that are biblically sound and Christ-centered.
The Kingstone Bible is the longest single graphic novel ever published, as well as the most complete graphic novel adaptation of the Bible. My book The Apostle is part it, telling the story of Paul's life and ministry, mainly based on the book of Acts. The Action Bible, which my grandsons love, has sold over a million copies. It's proven that the Bible in graphic novel form can be both engaging and Christ-honoring. The Kingstone Bible is every bit as compelling as the Action Bible, but it utilizes many more illustrators (over 45) and covers a lot more biblical content. Here's more about it:
The Kingstone Bible illustrates all 66 books from Genesis to Revelation and brings the entire Bible together into one continuous story. The Kingstone Bible will release in three formats: three hardback volumes, 12 soft-back versions and digitally. Portions of The Kingstone Bible are currently available in print and digital in multiple languages with more planned. An animated version begins releasing January 2017 and a Virtual Reality experience of The Kingstone Bible is currently in development.

At 2,000-pages, The Kingstone Bible is the longest non-serialized graphic novel ever published. The book features more than 10,000 art panels. All images were done by hand with pen and ink by more than 45 industry-recognized artists including Kyle Hotz (Captain America, Dr. Strange, Spiderman), Christopher Ivy (Daredevil, Avengers and Hulk), Emily Kanalz (Spiderman and X-Men) and artists with a long list of Marvel and DC Comics credits.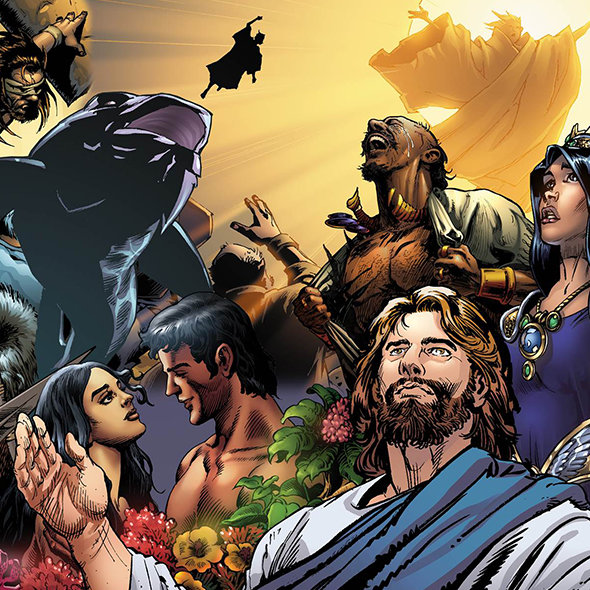 The three volume hardcover set is monumental. Together, the books weigh over twelve pounds. When they were shipped, I immediately got them into the hands of my grandchildren.
I encourage you to check out The Kingstone Bible, and consider if there's a young person in your life who might benefit from reading it. (And I recommend getting a copy for yourself—I  think you might be surprised how much you enjoy it as a fresh, visual supplement to your study of God's Word.)
May God use The Kingstone Bible to multiply His kingdom!
Evaluation by Gerry Breshears, Chairman of the Department of Theology, Western Seminary:
The Kingstone Bible is a powerful new way to get the message of the Bible into the hands, heads, and hearts of people who simply do not read books, much less the Bible. I greatly appreciate the use of this format to engage the imaginations of all people. It presents the message of God's Word simply and faithfully. While the format is at its best in narrative, gospel and apocalyptic, all genre of Scripture are presented well. Haggai and Jude come to life in graphic format while Romans is summarized clearly. It is not intended to be a substitute for the Bible itself. Rather this ingenious work introduces and invites people into God's Word. Enjoy the work of this team of godly artists.