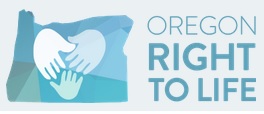 Calls for Rejection of SB 494 to Protect Patient Rights
Oregon Right to Life
Oregon Right to Life is calling on Oregon state senators to reject Senate Bill 494, which is designed to allow for the starving of patients with dementia or mental illness. This bill would remove current safeguards that protect conscious patients' access to ordinary food and water when they no longer have the ability to make decisions about their own care.
"Oregon law currently has strong safeguards to protect patients who are no longer able to make decisions for themselves," said Gayle Atteberry, Oregon Right to Life executive director. "Nursing homes and other organizations dedicated to protecting vulnerable patients work hard to make sure patients receive the food and water they need. Senate Bill 494, pushed hard by the insurance lobby, would take patient care a step backwards and decimate patient rights."
Senate Bill 494 makes many changes to advance directive law, eliminating definitions that can leave a patient's directions left open to interpretation. SB 494 would also create a committee, appointed rather than elected, that can make future changes to the advance directive without approval from the Oregon Legislature. This could easily result in further erosion of patient rights.
For interviews or media inquiries, please contact Liberty Pike, communications director, at [email protected] or by calling 971-645-6585.