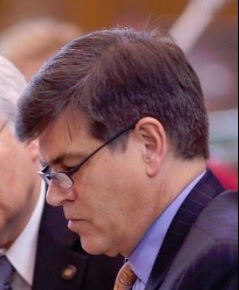 Oregon Faith News Note:
This week, Oregon State Representative Vic Gilliam, stepped down from office just 48 hours before his re-confirmation ceremony and the start of the 2017 Oregon Legislature. Representative Vic Gilliam has been battling ALS for many years. The deteriorating disease began to exact a toll that made it impossible for him to serve his constituents. On his Facebook page, he left this faith-filled note,
Then I intend to turn my primary focus on personal faith and the important path as a follower of Jesus. I again offer these words of Paul an Apostle of Jesus, as an example of HIS comfort in our current challenges:
"… God has called you to a free life. Just make sure that you don't use this freedom as an excuse to do whatever you want to do and destroy your freedom. Rather, use your freedom to serve one another in love; that's how freedom grows. For everything we know about God's Word is summed up in a single sentence: Love others as you love yourself. That's an act of true freedom. If you bite and ravage each other, watch out—in no time at all you will be annihilating each other, and where will your precious freedom be then? "
Galatians 5: 13-15
Over the years, Vic Gilliam, was highlighted in the press for his unique relationship with another State Representative, Brian Clem. Representative Clem is of a different political party but yet share an unlikely friendship. Vic and Brian would read verses from a common prayer book they liked.