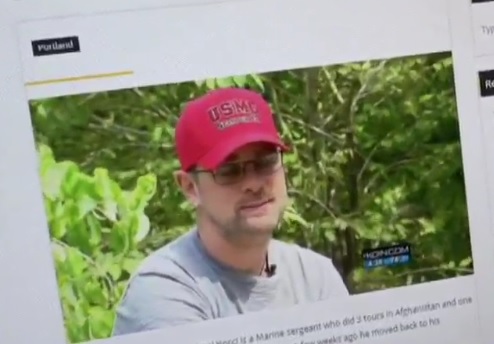 By Oregon Veterans Association,
A man posing as a combat veteran and widowed father has preyed upon the generosity of Portland area Christians by telling heartbreaking but entirely fictitious stories, according to a KGW investigation launched in December.
The television station's investigation found that Michele Bocci, 34, a slender man with beard and glasses, had bilked money, food and services from more than two dozen people in McMinnville, Tualatin, Oregon City and West Linn. Bocci approached a half-dozen churches in Portland, Beaverton and McMinnville as well as community groups and individuals. He told pastors and others that his wife died and left him with the care of a toddler—and sometimes two—but nobody has seen any children. In a case of stolen valor, he claimed he served in combat with the Marines, but the U.S. Department of Defense has no record of him. Last month he acted desperate when he entered a free health clinic at the First Baptist Church in McMinnville and told a volunteer he and his 4-year-old daughter would be evicted if he didn't pay the rent, so the older woman loaned him $705, which he promised to repay. When he didn't, she lodged a complaint against him in small claims court.
"It's unfortunate because he's preying on people's heart strings," Sheriff Tim Svenson of Yamill County told KGW. "He's pulling out these sad stories."
But, Svenson said, lying isn't a crime.
"It's disappointing because you want to help people," Dave Hughes, operations pastor at Westside: A Jesus Church in Southwest Portland, told a television reporter. "You don't want to be suspicious."
But when Pastor Hughes pressed for details such as last name and address, the man refused to answer, so the pastor declined his request for money.