From Samuel Metz, MD
Portland, Oregon
Soraya Deen is a nationally known speaker on interfaith dialogue and empowering women. The City Club of Portland event, described below, is one of several appearances in Oregon. Please see links below to find an event close to you.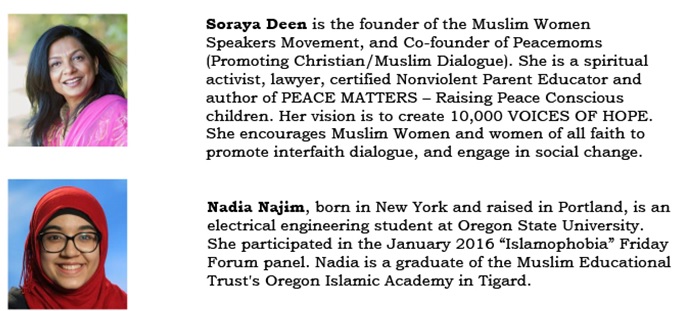 • Thursday March 23rd, City Club of Central Oregon (Bend): https://cityclubco.org
• Wednesday March 29th, Salem City Club: https://salemcityclub.com
• Thursday morning, March 30th, Springfield and Eugene City Clubs:
https://springfieldcityclub.org and https://www.cityclubofeugene.org
• Thursday evening March 30th, Corvallis City Club
: httpss://cityclubofcorvallis.org
• Friday March 31st, City Club of Portland:
Date(s): March 31, 2017
Time: 12:15 PM PST – 1:15 PM PST
Location:
Sentinel Hotel , 614 SW 11th Avenue, Portland, OR 97205
RESERVE YOUR SEAT
Does male dominance of national politics affect everyday life for Muslim women? Should the inauguration of Donald Trump change our sense of personal security? Do our own communities unwittingly promote discrimination?
Two Muslim women — Soraya Deen, a national advocate for interfaith dialogue, and Nadia Najim, a college student raised in Portland — will discuss experiences, concerns, and expectations about their future in a changing and possibly hostile social landscape.
Event Partners:
-Emerge Oregon
Portland American Association of University Women
Oregon Women Lawyers
Bilal Masjid
League of Women Voters of Portland
World Affairs Council
Soroptimist International of Portland
Lutheran Community Services Northwest
Jewish Voice for Peace – Portland