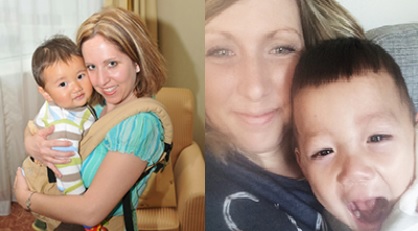 Holt International
Eugene-based charity
Andrea Olson describes her two sons as among the best decisions she ever made. But she didn't always love the idea of adopting boys… Even after she learned that it's a myth that only girls need families.
"Did these realizations make me yearn for a little boy?" she wrote in a 2014 blog.
"No," she wrote. "I still imagined how much more fun it would be to have a houseful of girls."
But then, Andrea began to have a change of heart.
"I watched boys playing at the park, looked through little boy clothes when I was out shopping, and imagined what an honor it would be to raise a boy to be a good man, husband and father … I also talked with friends who were parenting sons, and I will never forget what my friend Tauri said to me while we were in China adopting in 2007. 'Nobody loves their mama like a little boy.'"
Every family has their own reasons, their own story, for switching their gender preference from a girl to a boy. For most, the decision came after learning that because so many families request girls, boys actually wait far longer for families — while families wait longer for girls.
"Man, I wrestled in a huge way with the fact that boys were waiting, and we were saying NO based on the fact that they are boys, when I had two boys I adored right at home," wrote one mom, Lindsy Griffis, who ultimately decided to adopt a boy.
"I got to thinking… When I was pregnant with the girls, we couldn't pick the sex," wrote another mom, Lisa Jackson. "We were given what the Lord wanted us to have. This started to change my thinking on our selecting 'girl.'"
But no matter the reason, or how they came to it, neither Lisa nor Lindsy nor Andrea — nor the countless families who have switched their preference from a girl to a boy — look back and regret their decision.
"Five months later, this one-time reluctant mother to a boy couldn't stop smiling as I held my SON!" writes Andrea. "He's my snuggle bug, a most compassionate and tender child, and oh so sweet."
Lisa Jackson says she has a special bond with her son, Luke. "One reason is because I know there was a time I wouldn't have said 'yes' to adopting a boy," she writes. " When I think about that, I am moved to tears. I can't imagine our life without him."
While Lindsy Griffis feels at peace with her family's decision. "Through the whole process, we have seen God lead us (often confused and sometimes scared) to this boy and lead this boy home," she writes. "We are certain that God intended for us to be his parents, and what a gift it is to be his mama."
We especially need families for boys! If you are interested in learning more about the adoption process or the next steps, visit holtinternational.org/boys!