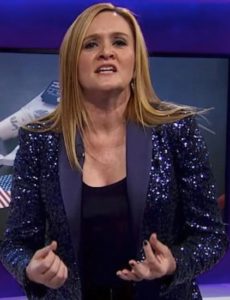 SAMANTHA BEE'S DISHONEST HARANGUE
Catholic League president Bill Donohue comments on "Full Frontal with Samantha Bee":
Samantha Bee is no stranger to Catholic bashing, so it was hardly surprising to learn that she ripped the Catholic Church in her June 21st show. Her focus was the Child Victims Act, a bill being considered by the New York State legislature. The least controversial aspect of the bill is extending the number of years that alleged victims could sue; the most controversial component is allowing a one-year window to revive old cases.
According to Bee, the bill's opponents are evil-minded persons who seek to justify child sexual molestation (she went off-the-rails on me). She interviewed a sponsor of one of the bills, State Senator Brad Hoylman, who said opposition was coming from the Catholic Church, yeshivas, and the Boy Scouts.
It is striking that Hoylman did not mention the public schools. That's because they have traditionally been exempt from coverage in these bills. In 2009, when they were included, the public school establishment went ballistic and the bill failed. This year the public schools were included, but given their low profile, they either knew that the lawsuits would focus on the Catholic Church, or they were going to get another pass at the last moment.
The reason why I have long opposed these bills is twofold: a) they suspend the statute of limitations, a due process staple for the accused, and b) anti-Catholic bigotry. Regarding the latter, in every state where legislation like this has been considered, rapacious lawyers with a history of Catholic bashing have zeroed in on the local diocese, dragging up cases from a half-century ago where many witnesses have died or memories have faded. The public schools always get a pass.
The latest data show that .004 percent of the Catholic clergy had a credible accusation made against them in the year 2014-2015. No institution, secular or religious, can match that record.
It is in the public schools where child rape exists on a massive scale, and no one is doing anything about it. Moreover, they are still "passing the trash," moving molesting teachers from one school district to another. Furthermore, because of the doctrine of sovereign immunity, alleged victims have only 90 days to file suit, otherwise they are out of luck.
Bee's wide-ranging attack on me—she looked and sounded delirious—bears no response; the random clips her producers spliced together can be easily defended.
Samantha Bee epitomizes the worst of comedians these days: she is dishonest, crude, and without a whole lot of talent. At least Kathy Griffin can be funny. But Bee seems to have found her niche—feeding the appetite of bigots.