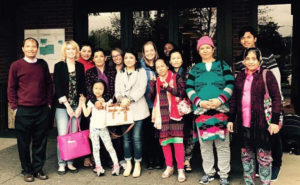 Master of Arts in Global Development & Justice Program students empower Bhutanese refugee community
Multnomah University
by Fabi Colmenarez, MAGDJ Student Cohort 4
As part of the Applied Research Methodology course for the MAGDJ program, and in partnership with Beaverton Foursquare Church, a team of students (including myself) was formed to work with an amazing group of refugees from Bhutan during the 2017 spring semester.
Through the research project, we developed strong relationships with the refugees and heard their personal stories. The research process provided us opportunities to walk alongside them in discovering the challenges that they face as they resettle in the United States.
June blog photo 3We incorporated a Participatory Approach (PA), which included a host of methods that focused on empowering the resettled refugees to identify the primary challenges they were facing, reveal the root causes of those challenges, and pinpoint the impact of these challenges that were affecting their lives on various levels.
The PA tools that were used assisted them in creating a safe environment where men and women from different generations could work together; thus, leading them to a consensus in understanding their current situation. We learned that this is the first step toward finding a solution to complex situations.
Through this experience, we were witnesses to the transformational power of the PA methodology. As a team, we were able to witness first-hand the role that research plays in empowering a community to transform their reality in meaningful ways by using their own resources.
As MAGDJ students, this project gave us the opportunity to live what we're learning in our courses: to be agents of transformational development who can go beyond this course and into future careers focused on development and justice.