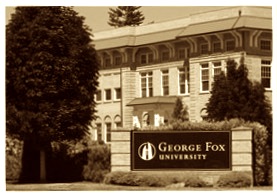 George Fox University ranked first in Oregon in 'Money' magazine's 'Best Colleges for Your Money' list
The university also ranks No. 5 among Christian colleges nationwide and No. 191 overall – on a list that initially considered 2,400-plus schools
The value of a George Fox University education was reinforced this month by Money magazine, which ranked the institution among the top five Christian colleges in the country and No. 1 in the state of Oregon in its 2017-18 "Best Colleges for Your Money" list.
George Fox was the top-ranked school in Oregon, finished No. 5 among schools in the 121-member Council for Christian Colleges & Universities, and was No. 191 overall. In Oregon, George Fox ranked considerably higher than the other eight schools listed: the University of Portland (#255), Oregon State University (#274), Reed College (#365), Pacific University (#408), Willamette University (#408), Linfield College (#529), the University of Oregon (#600) and Lewis & Clark College (#645).
Nationally, Princeton University ranked No. 1 overall, and the top-10 included nationally prominent institutions such as the University of Michigan (#3), the University of California, Berkeley (#4), UCLA (#5), Stanford (#5) and Harvard (#10).
Among CCCU schools, only Wheaton College in Illinois (#111), the College of the Ozarks (#73), Waynesburg University (#170) and Wisconsin Lutheran College (#178) ranked higher than George Fox.
Rankings were based on 27 factors in three categories: quality of education, affordability and outcomes. Factors pertaining to quality included graduation rates, instructor quality and peer quality; affordability incorporated the net price of the degree, average student debt and affordability for low-income students; and outcomes considered statistics such as graduates' earnings, the socio-economic mobility index (percentage of students moving from low-income backgrounds to upper-middle-class jobs), and a survey on "job meaning" ("Does your work make the world a better place?").
In each category, Money used at least one "value-added" measure, which reveals a school's performance after subtracting the impact of its average student's test scores and percentage of low-income students. This statistical technique also avoids simply rewarding schools for taking in students who'd likely succeed anywhere.
And, unlike Money rankings from past years, this year's ranking gave weight to new data developed by a Stanford economist that shows how many low-income students schools propelled into the upper middle class over the past 20 years – pointing to colleges that helped students achieve the "American Dream."
Initially, more than 2,400 schools were considered. Of those, 711 made the final "Best Colleges" list by meeting each of the following criteria: have at least 500 students; have sufficient, reliable data to be analyzed; not be in financial distress; and have a graduation rate at or above the median for its institutional category (public or private).
According to Money, the "Best Colleges for Your Money" rankings are the first to combine the most accurate pricing estimates available with all reliable indicators of alumni financial success, along with a unique analysis of how much "value" a college adds when compared to other schools that take in similar students.
The magazine estimates a college's "value-add" by calculating its performance on important measures such as graduation rates, student loan repayment and default rates, and post-graduation earnings, after adjusting for the types of students it admits.
George Fox University is ranked by Forbes among the top Christian universities in the country and is a Christian college classified by U.S. News & World Report as a first-tier regional university. More than 4,000 students attend classes on the university's campus in Newberg, Ore., and at teaching centers in Portland, Salem and Redmond, Ore. George Fox offers bachelor's degrees in more than 40 majors, degree-completion programs for working adults, six seminary degrees, and 13 master's and doctoral degrees.