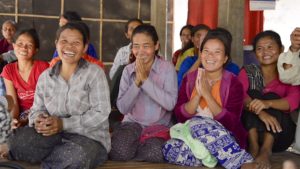 Preventing Trafficking, Keeping Children Safe in Cambodia Part 3/3
By Billie Loewen Comment
Just down the road from Yai lives Pelly and her family. With four children to care for and feed, Pelly used to travel to Thailand to work, making just a few dollars a day tilling and harvesting fields for other farmers or doing manual labor. Her husband makes about $7 per day working construction, but he often travels for work, too.
While Pelly was away for work, sometimes eight months out of the year or more, her children lived with their grandparents, but their education suffered.
"My second grader is a year behind in school," Pelly says in Khmer. "She missed a lot while I was away in Thailand. She sometimes is still angry that she's behind."
In 2015, Pelly joined the same Holt-funded women's group as Yai, and she was able to take out a $100 loan to purchase a pig. With education and assistance from CLA, she learned about raising and selling pigs, and when her pig had 10 babies, she was able to sell each one for $20 within about a month of being born. With the $200 profit, she began repaying her loan — and has been able to continue repaying in small increments. The full balance will be paid off in May, and then Pelly can borrow again if she chooses. Pelly and her husband have also been able to make some repairs to their one-room home, adding tin instead of thatch to keep the family safe during the rainy months.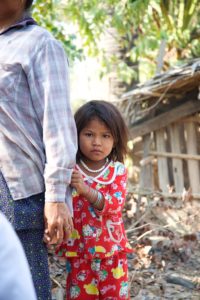 Pelly also kept one piglet for her family after her first litter, which has grown considerably in size. On this hot day, he's rolling in his muddy pen, turning his black spots brown. Neighbor children stick their hands into his pen and the pig oinks and scrunches his nose in disappointment at their empty palms. Recently, the first pig she purchased had another eight piglets, and they will soon be old enough to sell.
For Pelly, these little piglets make her feel proud.
As Pelly has expanded her farm, the money she makes raising animals and growing crops is enough that she and her husband can support their children without Pelly migrating for work. All four children are in school with support from their Holt sponsors, and they are happy to have their mother at home. The family is moving closer and closer to self-reliance. Eventually, they will be stable enough to provide for their children without any support from Holt or CLA.
Pelly was only able to attend primary school as a child, but she has big dreams for her children — dreams that are only possible if they stay in school.
"I want one child to be a doctor and another to be a teacher, at least," she says.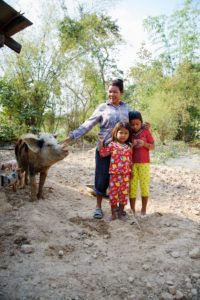 Pelly with the first pig she bought with a donor-funded microloan and her two daughters.
Small loan programs like the one Yai and Pelly have benefited from typically take about five years to show their full impact. However, the fact that self-help groups and microloans are providing immediate reunification of families and preventing migration within just a year is tremendously promising for the future.
"Before, women and children were hopeless about the future," says CLA's director, Buth Saman. "But now, they are learning to have hope. Parents and children know that's important."