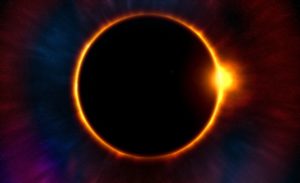 By Naomi Inman
Oregon Faith Report
Whenever a major event in Oregon brings a large influx of out-of-state travelers, an uptick in sex trafficking is now a stark reality. Last week's Aug. 6 Bend Bulletin warned of increased human trafficking expected during the week of the Aug. 21 solar eclipse, according to Nita Belles, executive director of the anti-trafficking organization In Our Backyard (IOB).
To help reach victims at this critical time, IOB has printed "Freedom Stickers," for Central Oregon business owners to post inside bathroom stalls. The Stickers are also distributed nationwide and contain a message and instructions (in English and Spanish) for how to contact the National Human Trafficking Hotline.
Sergeant Staples of the Portland Police Bureau Sex Trafficking Unit affirms that Oregon is a major corridor for sex trafficking, saying, "It's not uncommon to see increased proactive response from law enforcement during major events which results in an increased amount of arrests."
Staples encourages anyone witnessing what may look like a trafficking victim or operation to call Crime Stoppers of Oregon at 503-823-HELP, or submit a tip online at www.crimestoppersoforegon.com. Tips are completely anonymous and helps notify the Oregon Department of Justice and local law enforcement within hours.