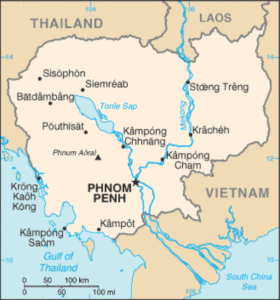 Preventing Trafficking, Keeping Children Safe In Cambodia
By Billie Loewen
Part 1 of 3
At 4:30 p.m., the garment factories in southwest Cambodia are letting out for the day. Beyond the fences and gates that surround each giant, metal warehouse, a row of industrial flat-bed trucks wait, some already filling with women in bright pants and T-shirts. The two-lane road leading from the nation's capital city, Phnom Penh, to the small fishing town of Kampot is stacked with these trucks — some with 20 or 30 passengers who sit in the back, shoulder to shoulder, their legs stretched straight. Some have more than 100 passengers, mostly women, who are packed so tightly they must stand with their stomach and back pressed into the women around them. The air is dusty as they drive, and many cover their faces with medical masks or scarves.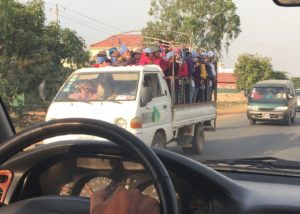 "When a truck wrecks, many women die," Kosal Cheam, Holt's director of programs in Cambodia, says grimly, shaking her head.
In Cambodia, poverty is so widespread that thousands of families are forced to migrate from rural areas to large cities like Phnom Penh or even bordering countries like Thailand to find work — often low-paying jobs in crowded garment factories. Agriculture, mainly rice production, is the dominant economic driver in the region and many families survive on what they grow. But drought is a common occurrence. And when nothing grows, many families are out of work.
In February, temperatures hover around 95 and rice fields are dry, brown and dusty.
"No rain," Kosal says, en-route from Phnom Penh to Holt's programs in rural Prey Veng. "There hasn't been rain in a long time. Nothing grows when it's this dry."
This is alarming news.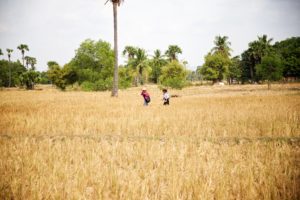 When nothing grows, there is less to eat. Families butcher their chickens or ducks, if they're lucky enough to own them, or dig deeper into their supplies of rice. However, very few families have sufficient land to grow enough rice for the entire year. If they eat beyond their rations now, they will just be even hungrier later in the summer.
Planting won't begin until July, and rice harvest usually starts in November. Already, many NGOs in the region are preparing for potential water and food shortage emergencies in Cambodia.
In these circumstances, parents are faced with hard decisions. Do they stay home with their children and do the best they can to raise and grow their own food despite water shortages? Or, do they migrate to Phnom Penh or an area with garment factories to look for steady work?
There are no easy answers.
These decisions are especially difficult if a child falls ill and parents can't afford medical care, or if their rice yield was less than expected and the family already faces hunger and malnutrition. On the other hand, if one or both parents migrate to find better work, their children will stay with grandparents or other family and may be vulnerable to neglect, abuse or exploitation. They may fall behind in school without a parent's watchful eye. When children grow up without their families, the result can be catastrophic.
Yai, a 34-year-old mother of two, understands this struggle well.
Yai lives in a one-room wooden house built on stilts with her husband, a 13-year-old son and 9-year-old daughter in Trepang Sre Village in Prey Veng Province, an area between Phnom Penh and the Vietnam border. They store their drinking, bathing and cooking water in a 20-gallon ceramic pot. They cook over an outdoor brick-and-wood-fired stove, which they built themselves, and they sleep together on mats under one mosquito net, which hangs from the tin roof of their home. The bulk of the family's possessions consist of a few outfits of clothing each, a couple of blankets, some pots and cooking dishes and a few plastic bins. They store their annual supply of rice in a four-foot-tall woven basket, which beside their sleeping space and few possessions is the only thing inside their home.
Yai's husband might make $5 per day working construction, but the work often takes him far from home and it isn't steady. Through the years, Yai and her husband have often struggled to produce enough food to ensure they have enough to eat all year, and their income wasn't enough to pay for their children's school materials. The cost of books, pens, uniforms and backpacks can be $20 or more per term — an out-of-reach amount for many families in Prey Veng.
Until last year, when Holt began serving vulnerable children and families in this region, Yai migrated to work at a garment factory to help meet the most basic needs to her family — most importantly, keeping her children in school. Her children stayed with their grandparents nearby.
"Being away, I missed my children," Yai says. "Even though they were with family, they weren't with their mom and dad."