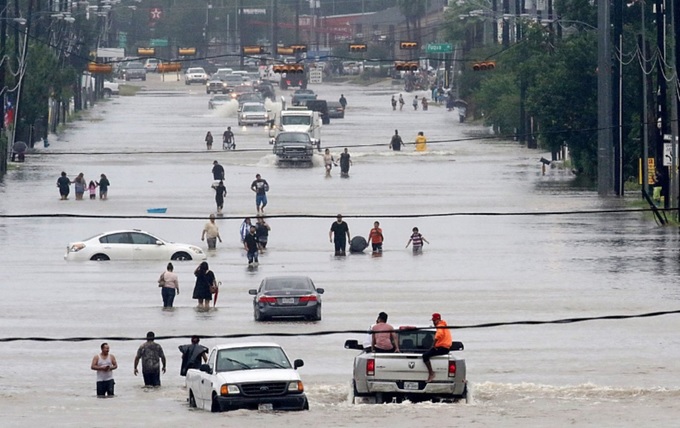 By Faith News Note,
Three local charities have been recruiting volunteers help for hurricane Harvey in Texas. The first was the Red Cross which held quick volunteer training classes and immediately sent local people into the disaster area to help.
The next has been the NW organization, Forward Edge International a Christian ministry in Vancouver, Wash., that helps vulnerable children, restore victims of disasters, and serves the people in need around the world. They are currently trying to recruit 7 Oregon volunteers to serve on a short-term trip to Texas to help in the important rebuilding effort.   Seven people is all it takes to form a trip, but without seven such trips are cancelled.  Sign up for a short-term mission trip here or you can donate to make the trip possible here.
Forward Edge explains:
"Significantly, 80% of the people affected by Harvey did not have flood insurance! That means they won't have enough money to pay for all the materials and labor needed to repair their homes.That's where Forward Edge comes in! Together, we can provide the free labor needed to gut homes (i.e. rip out sheet rock, insulation and carpet before the house fills with mold), hang new sheet rock, and assist with other home-repair projects. Our initial focus will be assisting the most vulnerable; widows, seniors, single moms, and low-income families."
The need for volunteers is great as Texas Gov. Greg Abbott estimates damages from Hurricane Harvey at $180 billion, which tops the $160 billion caused by Hurricane Katrina in 2005. It is expected to take decades for southern Texas to fully recover.
Other Oregonians are helping four-legged victims of Hurricane Harvey. A team of four—two staff members and two volunteers—from the Oregon Humane Society traveled to Texas for seven days to help stranded pets. Additional teams will be sent later.
More about Forward Edge — Forward Edge, which started in 1983, has responded to disasters and, after first responders left, helped with long-term recovery for widows, widowers, elderly citizens, single moms, low-income families and other vulnerable people. Each year, the organization raises money and sends up to 1,000 short-term volunteers to work alongside disaster victims. Since 1992, more than 4,500 Forward Edge volunteers have assisted 31,000 disaster victims in the United States and internationally.