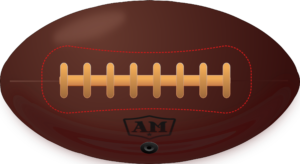 Football glory shouldn't mean moral bankruptcy
Via Tom Krattenmaker
College football fans, your new season has arrived. Here come the parties, the pageantry, the action, and if your team is as good as you hope, some stirring victories and bowl game glory ahead.
Sorry to spoil the fun, but are these worth it if your football team is cutting moral corners to get to the Promised Land? If the coaches, athletic department, and university administration are turning blind eyes to star players' sexual predations?
These are real questions, made all the more pressing by the rise and fall of the Baylor University team and a just-released book that throws harsh new light on this Christian university and the sexual assault crisis around its football program.
The story at Baylor is so over-the-top that it would probably break your credulity if it appeared in a novel. A series of football players' sexual assaults and an administration's willful obliviousness ended in the ouster of the coach, the athletic director, and the university president, Kenneth Starr. There have been eight lawsuits filed against the university and two ex-players convicted. (An appeals court overturned one of those convictions and ordered a new trial for the defendant.)
All this at a school with that prides itself on its deeply Christian identity.
Extreme though it is, the Baylor debacle is anything but a one-off, says Paula Lavigne, co-author the new book Violated: Exposing Rape at Baylor University amid College Football's Sexual Assault Crisis.
"This habit of shoving sexual assault cases under the rug is happening throughout the nation, throughout college sports," says Lavigne, who authored the book with her ESPN colleague Mark Schlabach. "We hope that this story shows the dangers of doing that."
Chief among those dangers: Young women experiencing the enduring trauma of sexual assault, compounded when gaslighting authorities take the player's side.
By one journalist's count, there have been roughly 110 college football sexual assault investigations and cases the past 40 years. Jessica Luther's list begins with an alleged gang-rape at Notre Dame in the mid-1970s and ends with a slate of cases from 2016, at campuses including North Carolina, USC, and Tennessee, in addition to Baylor. How many 2017 entries will she be adding?
Seen from afar, Baylor's Christian piety makes the football rape crisis especially hard to comprehend. Affiliated with the Baptist General Convention of Texas, Baylor has long touted a culture of sexual and moral purity among its students. A team of Christian chaplains has worked closely with its sports teams.
It's clear now that these guardrails were nothing against the much more potent force that swept over Waco with the arrival of football coach Art Briles in 2008. Briles took a perennial loser and transformed it into one of the top programs in the country, boosting campus spirit, alumni pride and the university's visibility.
A Baylor Board of Regents member sums up the storyline like this: "We were winning, and things were awesome. … It's hard to mess up awesome. Nobody wanted to mess it up."
Indeed not. Which helps explain why coaches and administrators — even the chaplains — seem to have gone out of their way to avoid seeing and confronting a pattern of players sexual assaulting women. As Lavigne and Schlabach document, then-head chaplain Wes Yeary mishandled a meeting with a student who came to him about being assaulted by one of the football team's star players. Rather than report the assault, Yeary gave the woman the spiritual equivalent of a pat on the head and sent her on her way. He eventually vouched for the player at penalty phase of his trial, adding extra salt to the victim's wounds.
Baylor now has a different president, different athletic director, and different coach, and it is hiring different chaplains. Will all these differences make a difference? We shall see. But the same inexorable pressure to win will push on the new guard just as it did the old, just as it does on all major college football programs.
Ironically, Baylor — its Truett Theological Seminary, to be exact — is home to one of the most reform-minded sports chaplaincy leaders and trainers in the country, John White. Despite his expertise, White and his sports ministry program previously have been stiff-armed from playing a role in hiring and overseeing the football chaplains. Now they're included in the process as Baylor hires new chaplains. White is encouraged by that and other changes at the university, but acknowledges that unless there is a deeper change of heart and culture the old problems could storm back. The same is true across college football.
White says job one for the new president, Linda Livingstone, and the new athletics leadership should be making sure that Baylor football is kept in perspective and that the university has its priorities straight. "Strength of character and convictions," he says, "comes before wins and losses. When done right, they are not mutually exclusive."
This is the lead that more college football fans need to follow. As long as the culture is obsessed with bigtime football and seeing our alma mater win, as long as we evaluate coaches and players more on the basis of their competitive success than their character, scandals will keep on coming.
It's true, as the Baylor regent says, that no one wants to "mess up awesome." Sometimes we must.
Tom Krattenmaker is a member of USA Today's Board of Contributors. He writes on religion in public life and directs communications at Yale Divinity School. His books include Onward Christian Athletes on religion in sports.