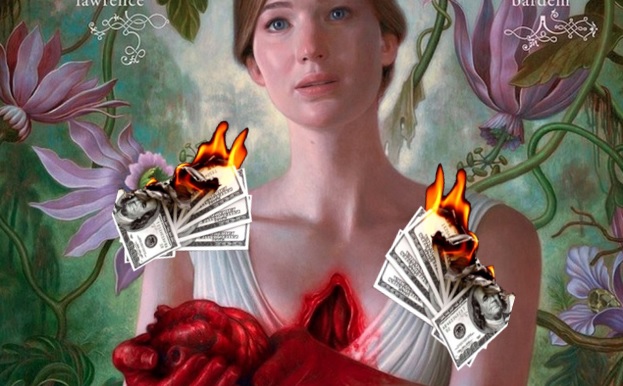 Darren Aronofsky's relentless God bashing film, Mother!, is record money losing flop
By M. Martin
Oregon writer,
Darren Aronofsky, the director behind the film "Mother!", is becoming one of Hollywood's most sacrilegious anti-Christian filmmakers and coincidently just joined the hall of shame as the Mother! Film just became a record bust over the weekend.  Mother! tanked in epic fashion both in reviews and box office ticket sales.
First look at the spiritual warning of the Mother! Film review by Plugged-In online said.
"The last twenty minutes of the film seem designed to deliver a damning perspective of God and those who would follow Him. Indeed, this film's take on Christianity might be the most scathing, contempt-filled attack upon it that I've ever seen onscreen."
Catholic News Service said,
"the film's treatment of religion — one of the major themes it seeks to address — is relentlessly negative and briefly sacrilegious."
Remember, Darren Aronofsky, is the one who wrote and directed the 2014 film Noah which made an open mockery of the Bible story.   Noah was not a righteous man but rather evil, portrayed as an uncaring madman who wanted to murder his grandchildren as they came out of the womb.  After Aronofsky defamed Noah's character he elevated the Devil's angels in the film by making them good people who just wanted to help.
Mother! Scored a rare CinemaScore of an F grade.  Movie columnist Rex Reed said Mother! may go down as the worst film of the century!  It cost $30 million to make but only netted a $7.5 million opening.  This is also the worst opening for Hollywood mega-star actress Jennifer Lawrence.
Who could have predicted that this film opened on the worst weekend of the year because of it's rival from Stephen King's film called "It"?   No one knew that King's horror movie would be a runaway hit and smash all-time box office records for a horror film.   Opening another horror film, Mother!, the week after the best selling horror film of all time turned out to be a record making disaster.    Furthermore, no one knew that the "It" movie would break the records for the biggest opening for a September release.   What an epic disaster. It goes to show that when you make money of the devil's sacrilegious material don't count on a faithful following.