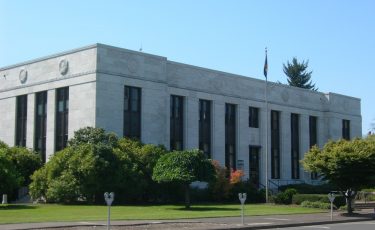 The Oregonian Editorial Board Sunday Editorial focused on recent OPB media question of Oregon's Secretary of State's view on homosexuality followed by news stories of criticism.  Below is the editorial entitled "Criticize Richardson's work for legitimate mistakes, not his religious beliefs: Editorial"  The story ran in Sunday 10/1/2017 newspaper but as of 10/2/17 cannot be found online.  Here is the Oregonian editorial:
Secretary of State Richardson ruffled some feathers in the Democratic Party of Oregon, when he sighted his acceptance of his religion's views on "gays", and making it clear he would continue to show no bias in his duties.

Dennis Richardson, Oregon's sole Republican in a statewide office, has certainly made some mistakes as secretary of state. But admitting to religious beliefs isn't one of them.

Unfortunately, that's what his predecessor – who now happens to be the chairwoman of the Democratic Party of Oregon – appears to be saying. Former Secretary of State Jeanne Atkins on Thursday condemned Richardson for comments he made during a recent interview with Oregon Public Broadcasting in which he was asked whether he felt it was immoral to be gay. After a long pause, Richardson, a Mormon, replied that when considered through the lens of his religion, he did, adding that a change in Oregon law, such as the legalization of same-sex marriage, does not shift what his religion teaches. But he said his stance doesn't change his acceptance for people who make their own choices about something so personal.

It was an honest answer, if an impolitic one, to a personal question. His out-of-step stance on sexual orientation as well as other social issues are among the reasons his gubernatorial campaign failed to generate widespread support in 2014. But Richardson is not governor. He is secretary of state, where his duties and responsibilities are to run the elections, audits, archives and other divisions of his office with professionalism, fairness and a lack of bias. He appears to be doing so.

But Democrats, who undoubtedly want Richardson's seat back, are willing to exploit any possible weakness, even if it means adopting a discriminatory argument. Atkins pounced the day after his interview saying in a statement that "it is not an Oregon value to pass judgment on thousands of Oregonians whose voting rights are in the Secretary's hands. And it therefore calls into question his ability to perform his job."

She didn't offer any examples of how his views have affected his ability to perform his job. Rather, her condemnation rests on the insinuation that a person who holds certain religious beliefs cannot be trusted in positions of power. That is an inherently discriminatory position to take – and one that also seems out of step with what Oregonians value.

Oregon rightly prides itself on its acceptance and recognition of the strength a diverse population brings. Just this year, Oregonians have protested in support of racial minorities, Muslims and immigrants – legal and undocumented. They have been determined to show resistance to a federal agenda that would seek to condemn people for beliefs and backgrounds that don't match a white majority's. But Atkins' attack, without proof, seems to follow in that same line of divisive discrimination that Oregonians are rejecting.

Certainly, if Richardson were ever to allow his religious beliefs, not Oregon law, to dictate how he performs his job, Atkins' criticism would be dead on. But that's the thing. Richardson has kept these views separate from how he performs his job. And that is exactly what we should hope for anyone in that position, regardless of religion, party affiliation, race, sexual orientation or ethnicity.

Such targeting of personal views also distracts from other criticism that Richardson may legitimately deserve. His plan to lead a 12-day trade mission to China, as reported by The Oregonian/OregonLive's Gordon Friedman, for instance, reflects questionable judgment by a man who has largely steered his office well, particularly with some of the smart and timely audits his office will pursue. As Friedman noted, Richardson plans to accompany select businesses to help promote them, with local and national Chinese government agencies picking up some of the tab. This is outside the scope of his office, and falls squarely in the responsibilities of the governor. Richardson should reflect on what voters have elected him to do and abandon this trip.

Oregon has become so polarized that it's especially disturbing when political leaders decide to stoke the fires over religious beliefs. But the fact remains that a majority of Oregonians elected Richardson over his Democratic opponent, Labor Commissioner Brad Avakian, to the position in 2016. Even those who deeply disagree with his personal views on sexual orientation and other social issues – including this editorial board – supported him for the position, recognizing that he brought better skills and judgment than Avakian. And he won by a sizable margin, netting tens of thousands more votes than the number of Republican ballots returned.

Atkins, as the top Democratic party official in Oregon, understandably wants to help her party win that seat back. But so long as Richardson keeps his religious beliefs out of the job, then so should she.