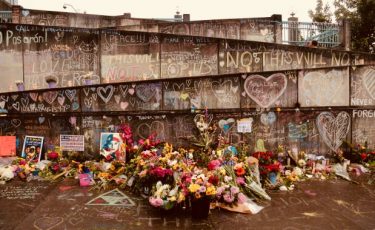 Memorial Put up at Hollywood Transit Center
by Helen Cook
On May 26th, two people were killed and one man was wounded while protecting two women who were being verbally assaulted by a man on the MAX in Portland. Now, the brave actions of Ricky Best, Taliesin Myrddin Namkai Meche, and Micah Fletcher will be honored by the city of Portland.
Now, several months later, TriMet announced on Thursday plans to create two tributes to the two victims: one permanent memorial and one temporary. The tributes, according to TriMet spokeswoman Robert Altstadt, will also honor the women verbally assaulted.
The first tribute will be a "large commemorative plaque" will be located at the Hollywood Transit Center in downtown Portland and is being designed by John Larsen. It will be 4 feet by 6 feet and made of porcelain enamel on steel. The plaque will include images of the memorial created by friends, families, and strangers after the initial attack.
The temporary work of art will represent the messages that covered the walls of the transit center after the attack, and the artist will include some of the original messages.
The art will be installed in the transit center around May 2018.