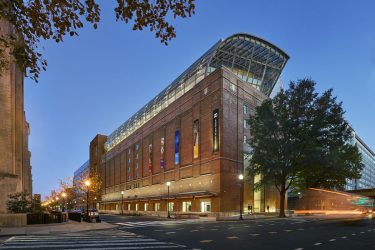 The Incredible Museum of the Bible, Now Open in Washington, D.C.
By Randy Alcorn
Eternal Perspective Ministries
Last month when Nanci and I were in Washington, D.C., we had the opportunity to preview the 430,000 square foot Museum of the Bible, which has finally officially opened to the public. I'm not exaggerating when I say it's absolutely incredible. All of us who were there kept looking at each other, shaking our heads in disbelief at how magnificent it was. The most commonly heard word was "Wow!"
Visitors are welcomed to the eight-floor museum by 40-foot-tall bronze doors depicting the Latin text of Genesis 1, from an early edition of a Gutenberg Bible. Once you're inside, God's Word is everywhere, and I'm convinced countless people will come to faith in Christ as a result of visiting. And there's no admission charge, though contributions are accepted.
The museum has a number of interactive stations and displays, and many short instructional videos, in various languages, featuring those wearing authentic clothing of particular Bible lands and times. The combination of high tech features and ancient manuscripts and artifacts is striking.
They say it would take 9 days, at 8 hours per day, to read every placard, see every artifact, and experience every activity in the museum. There's that much to see and do.
The museum is close to the National Mall and within walking distance to the Smithsonian museums and the U.S. Capitol, so tourists will naturally take it in.
What I love is that the displays let the Bible speak for itself. That means the Holy Spirit can do His convicting and regenerating work in countless lives, as they see and hear the actual words of Scripture, including the claims of Jesus. My prayer is that many unbelievers will see the Bible in a new light, and be motivated to go home and actually read and ponder it, perhaps for the first time.
"So my word that comes from my mouth
will not return to me empty,
but it will accomplish what I please
and will prosper in what I send it to do" (Isaiah 55:11, CSB).
Finally, check out this short film they created, "Experience the Book," which depicts twelve influential historic events and illustrates the Bible as the common thread that connects history:
httpss://youtu.be/w0KzvwUG5so