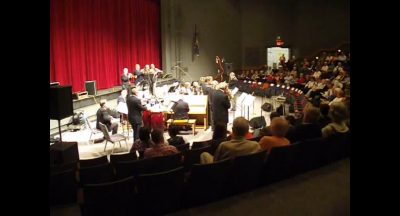 Medicine and Music: Meet the Providence Hospital Stage Band
by Helen Cook
Working in the medical field is certainly stressful and reducing the strain of saving lives is much needed by doctors, nurses, and other such workers. Most will turn to the average stress relievers such as exercise and reading; however, a certain group of doctors joins together once a month to blow off steam in in a much more nonconventional way: through a band called the Providence Hospital Stage Band.
The band formed in the 1960's and has remained strong in Portland, Oregon for over half a century. Larry Morrell, the music director of the band, said in an interview with Oregon Live: "They [the players] all started playing music in high school. Maybe they were in a rock group or the school band. At a certain point, they had to get serious about making a living. They knew music wasn't the way. They were drawn to medicine and went to college and then to medical school. They never lost their love of music."
Dr. Mark Loveless, a guitarist in the band, is a testament to how the band has brought doctors together to diffuse the stress while enjoying a much-loved hobby. Loveless was part of a team working on HIV research. "Early in your career, you quickly find out you can't do it all alone," he stated. "In our HIV research, I was part of a great team. When we did something good for a patient, the team celebrated. I feel the same way when I don't make mistakes in the bad. I've done my part."
The band has a variety of gigs around the Portland area, including a dance party for disabled adults and a prom for dental students. The Providence Hospital Stage Band will be performing on December 2nd at the Oregon Convention Center in the Providence Festival of Trees.