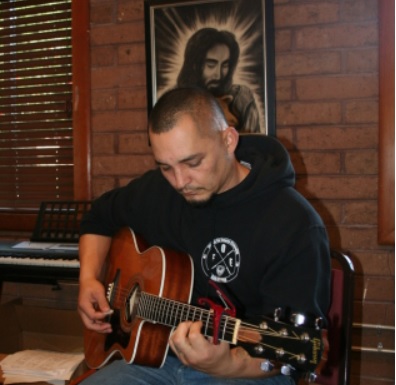 Joel Royce prepares for Sunday worship at First Baptist Church of Castle Rock, WA. Pastor Royce leads worship and preaches, while undergoing treatment for cancer.
By NW Baptist Witness,
On a routine trip to the grocery store Joel Royce first remembers feeling numbness in his face and right arm. First responders at the fire station initially diagnosed the 36 year old with a stroke and rushed him to the hospital. Several hours later the pastor of First Baptist Church of Castle Rock, WA, learned he had glioblastoma, the most common cancer that begins in the brain. But cancer does not define Royce, nor do other challenges faced in his life.
"I was raised in a United Pentecostal church and my dad was ordained," said Royce, who remembers feeling pressure to come forward in repentance and speak in tongues every Sunday. "But when my dad returned after being deployed in Desert Shield, our life was never the same and my parents divorced when I was 15. I lost respect for him and religion."
Royce felt he didn't have anyone to trust and look up to, and began to "party and chase girls." It was while he was attending Eastern Oregon University in pursuit of a physical education and health degree that he met his Leslie, who he would later marry.
"I was previously in a relationship with another girl and I used her," stated Royce. "She convicted me with her words and I came home and talked to the Lord, realizing I couldn't control my life and the mess I'd made. I rode my bike to a Baptist church in LaGrande, and first talked to Leslie that night."
Leslie Royce had suffered the loss of her first husband 10 months earlier in a logging accident, leaving her with an infant and toddler. Not long after meeting her, Joel was praying and journaling when he felt God reveal Leslie was to be his wife. They eventually married, Royce adopted the children and the pair had five more children together, making a robust family of nine. But it was a rough first year for the pair.
"I brought porn into the marriage and I thank God that she stayed with me through that," Royce said. "I decided I needed to deepen my spiritual life, enrolled at Multnomah Seminary and made a covenant with the Lord to leave pornography behind. I have been delivered from that since then."
Seminary gave Royce the opportunity to learn foundational principles of the Christian faith he was stunned to realize he never learned in the church.
"I went to seminary to get my life straightened out but began to feel the tug for pastoral ministry," Royce noted. "At the end of seminary I began to seek a position as a youth and worship combo and the Christian Church in Castle Rock, WA, hired me. There were some hard ministry lessons there that have produced fruit, but we were wounded before coming to First Baptist. I had no local mentors or ministry leaders to go to, unlike what we have in our network of Northwest Baptist churches and the Cooperative Program."
The young pastor was interested in a church that was elder-led, reproducing and missional. First Baptist was an older congregation and the Royce family doubled the children's attendance when he was hired to lead the church.
Royce has immersed himself at the church, leading out in a remodeling project and slowly the congregation grew. But the finances did not grow proportionately, and Royce picked up additional work as the PE teacher at a local Christian school. He also created his own minor league football team and was a devoted CrossFit participant. That level of fitness has aided him as he faces incredible challenges.
"The tumor was 2.6 centimeters, or the size of an egg," Royce said. "It was deep within my brain and they didn't do a biopsy prior to removing the tumor, as even that procedure is risky. I asked people to pray that the tumor would be encapsulated, as 5 percent of people don't come through this surgery at all and 50 percent are paralyzed, with the remainder having varying levels of symptoms."
With the surgery scheduled for Feb. 15, so close to Valentine's Day, Royce bought flowers for his girls, made a video of last words to his wife and children and planned his funeral with Phil Peters, Northwest Baptist Convention church planting catalyst. He woke up scratching his nose with his right hand following the surgery, an encouraging sign.
"They performed a resection, cutting open my brain to get the tumor out and found a cavern around the tumor, which is good, and were able to take 95 percent of the tumor out," Royce added. "The pathology result is a level four glioblastoma and the goal is to have disease free periods, as 95 percent of folks with this disease do not survive five years. I can't ever say I'm cancer free, as it comes back."
The treatment regimen has included weeks of radiation and a year of chemotherapy and Royce is living life to the fullest by fulfilling a dream to go skydiving before it began.
"I couldn't control my body well and going to the gym was mentally exhausting, but has been a big part of my recovery," Royce recalled. "I am now halfway through and my blood work has been great. I ran a 5K and the doctor says that is superhuman, but the strength is coming from the Lord."
The family has needed to depend on others through this latest trial and the church family is walking the path with their young pastor.
"It has been hardest on Leslie, as she felt God wouldn't take another husband from her," Royce said. "The kids have suffered as well, each coming to terms with it in their own way. I have memory loss at times, which I hope is chemo-related. I don't minimize my situation, but try to be straight-forward about it. The church paid me for a while when I wasn't really doing anything, but I only missed five or six weeks of preaching, but was still able to attend. Now I preach and lead worship for three weeks and then don't preach on chemo weeks. They have been very patient and rallied around me and are committed to me as long as I can be here.
"We could be called a church of misfits, but I am really impressed with this body as they have come together in the Spirit of the Lord," Royce remarked. "Suffering is part of the Christian life and my view of that hasn't changed since cancer. I've been able to love others like never before and realize there are more important things than picking up socks. It means more to suffer and lean on God than to have success and lean on God."
Such a dependence on the Lord has resulted in Royce renewing his relationship with his father — they've "reconciled and have a God-honoring relationship."
Royce has reaffirmed his belief in the resurrection and finds that liberating, but acknowledges he has low periods when he considers his family.
"My oldest daughter, Nicky, reminded me that we serve a God that is bigger than 2.6 centimeters," Royce said. "It's a long road ahead and I had to win the battle of my mind before I say that I'm not afraid. This is the thing for us to suffer for the sake of the ministry."
Those wishing to send Royce words of encouragement may contact him at [email protected].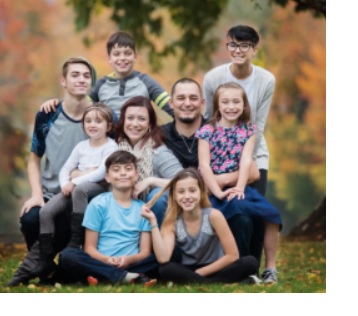 Photo courtesy of Lemondrops Photography