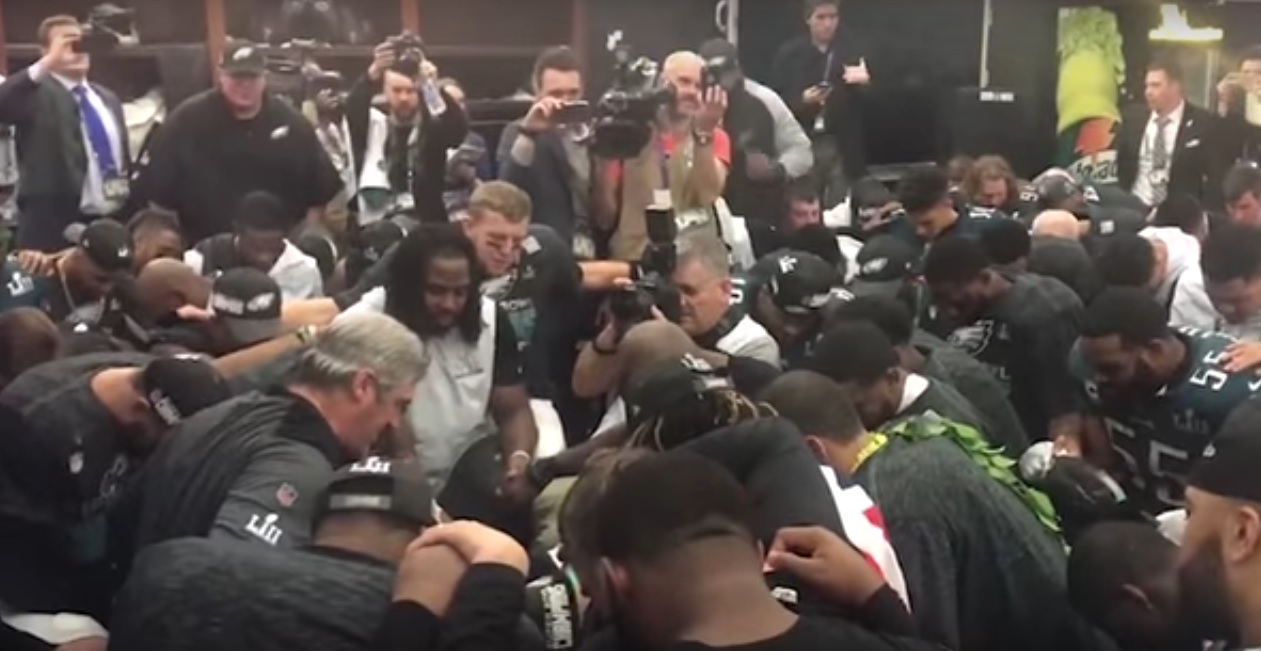 Coach Peterson leads  team in Lord's Prayer
By Oregon Faith News Note
After the Philadelphia Eagles beat the New England Patriots in Super Bowl 52, Eagles Coach Doug Peterson led the Eagles team in the Lord's Prayer as a moment of thanks and team unity.   Coach Peterson stated about his faith, "I can only give the praise to my Lord and Savior Jesus Christ for giving me this opportunity."
Here is another view of the Philadelphia Eagles and head Coach Doug Peterson in the Lord's prayer.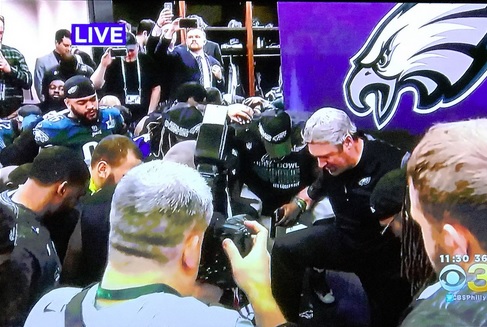 Philadelphia Eagle's star quarterback and Super Bowl 53 MVP, Nick Foles, also thanks God during his victory speech directly after the game.  You can view Nick Foles saying "Glory to God" in the video link (Nick Foles Super Bowl speech).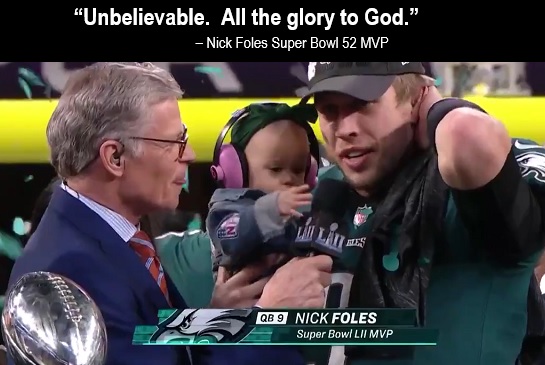 Touchdown scoring wide receiver
Eagles wide receiver who scored a touchdown that night Zach Ertz also had words of praise for the Almighty when he stated "Glory to God first and foremost,"
By Randy Alcorn, of Eternal Perspectives Ministry made these inside observations of the faith of the Eagles players:
"After starting for the Eagles and leading them to the playoffs in 2013, Nick came back to the Eagles this year a backup to quarterback Carson Wentz (another terrific brother). When Carson was injured in early December, Nick took over, and had several good games. Then in the NFC championship game against the Vikings, he had one of the best playoff games in NFL history (over 352 yards passing, 3 TD passes, 0 interceptions, 141 QB rating)….Seven weeks ago I was asked to speak about Heaven to the Eagles when they came to Seattle. Since they'd had chapel the night before, I was surprised that fifteen showed up, including three coaches. I'd met five of these players through the great ministry of Pro Atheletes Outreach, including Nick Carson, Trey Burton, and Zach Ertz (Chris Maragos was back in Philly with an injury, but he set it up, and Nick was on the scene to make it happen and introduce me to the Eagles). I was struck by the degree of spiritual thirst I saw in many of these guys.There are believers on every NFL team, but there is something special about this group of Eagles."
Check out this video for more about it.
httpss://youtu.be/mHsQCh2Fw2A
Here is a video of the Lord's Prayer