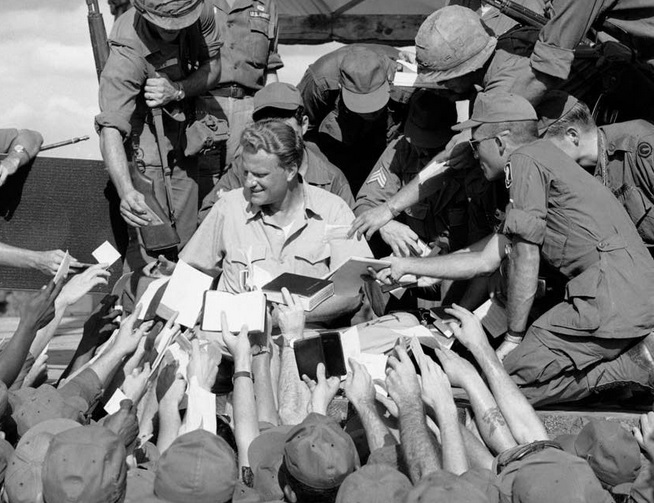 By M. Martin
Oregon Writer,
Former Oregon pastor, Ron Mehl, once shared to friends what it was like meeting Billy Graham. He spoke on how you could feel a heavy presence of God the moment Graham walked into the room and the same presence left the moment Graham exited. It was a unique experience even though Ron was familiar to the presence of God as a charismatic pastor of one of Oregon's largest churches.
Seeing beyond the media's description of what Billy Graham did as a person and looking instead at what God's Spirit did through him helps better explain some of the astonishing and record breaking activities accomplished in his life.
Consider these amazing facts:
1. Early in Graham's ministry he went on radio for the first time and within weeks he broke records for audience listenership for a religious speaker.  It wasn't Graham's speaking ability, although impressive, it was God's Spirit working and opening doors bigger than anyone had seen before.
2. Graham broke crowd attendance records in Australia (1959), London (1954), Russia (1992) and also at home in America in New Jersey (1955), Texas (2002) and New York (Both Yankee Stadium and Madison Square Gardens). Even in Portland (1992).  The South Korea crusade audience was so big, at 1.1 million, they had to host it at an airport strip where the crowds sat on the ground.  That is God's Spirit at work.  It is very similar to the outpouring of crowds created by the Spirit in the Book of Acts.
3. No walls in the world seemed to hold Billy Graham's ministry back. Graham was the first major evangelist to hold meetings behind the Cold War's Iron Curtain and did so everywhere including Poland, Hungary, Czechoslovakia, East Germany and Russia. Graham's crusades were accomplishing what had never been done before. That is God's Spirit at work.
4. In some of these Communist places it was illegal to publicize religious events with either public posters or on the radio.  Yet somehow Graham's crusades were able to do it anyways.  It was also illegal to use broadcast speakers outside of the events but it too just happened. That is God's Spirit at work.
5. The Puerto Rico crusade message broke TV broadcast records for being available to a billion people in 185 countries and translated into 116 languages. That is God's Spirit at work.
6. Some of the world's most opposing forces were unbelievably friendly to Billy Graham.  Graham was able to host meetings in North Korea where President Kim Il Sung compared Billy Graham friendship  like one of the family.  During the Moscow crusade, the Russian uniformed military band played several Christian hymns including Battle Hymn of the Republic.  That is God's Spirit at work.   It reminds me of how the Bible showed men earning the favor of the most unlikeliest of people like Joseph with Pharaoh and Daniel with Nebuchadnezzar.
7. Much has been said of Billy Graham holding the first public racially integrated events in many states in the South.  Even more impressive was that Graham was also the first person to host a racially integrated event in South Africa.   God Spirit was breaking racial barriers all over the world.
8. Billy Graham broke records for the nation's most admired man an incredible 61 years in a row.  The second man is not even close with Ronald Reagan at 31 years. That is God's Spirit at work.
When asked about filling stadiums Graham would reply that is was not him but God who did it. Graham always directed his life's accomplishments to God. This is good news for us because the same Spirit that worked in Billy Graham is the same Spirit that can reside in you and me.  We just have to be humble and obedient and follow God's direction.