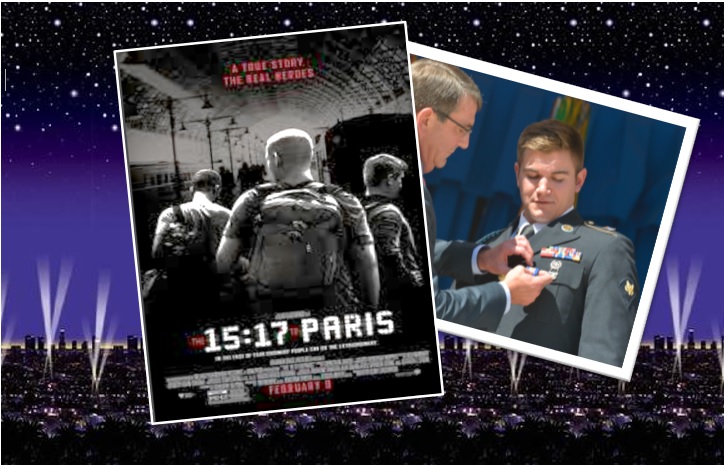 By Oregon Faith News Note,
The mom tells her son that God spoke to her and that he was about to experience something amazing on his trip. That Portland airport scene hints at was to come.  The answered prayer turned out to be heroic — so heroic that legendary director Clint Eastwood cancelled the original Hollywood actors and decided to cast the real life heroes in his new film 15:17 to Paris.
Alek Skarlatos of Roseburg, Oregon, and his two friends who thwarted a would-be terrorist's massacre aboard a train bound for Paris in August 2015. "The 15:17 to Paris,"  recounts the story of the friendship forged by three young boys who met at Freedom Christian School in Fair Oaks, California. That friendship, and their faith in God, prompted them to act when a 25-year-old Moroccan man entered the train car with an AK-47 and shot one of the train's 500 passengers.
"Get him!" shouted Skarlatos, an Oregon National Guard Specialist who served a tour in Afghanistan. He and his two friends, Spencer Stone and Anthony Sadler, rushed the terrorist and took him down. Although he suffered stab wounds in an arm, Stone, an Air Force medic, treated the injured passenger, pressing against an artery to stop the flow of blood.
During the Spike 2016 Guys' Choice Awards, Eastwood presented the hero award to the trio and learned they had collaborated on a book about their experience. After asking to see it, Eastwood decided to adapt the book as a movie. He suggested the three portray themselves. They hesitated but in the end agreed.
Stone, Skarlatos, and Sadler, who were vacationing in Europe that fateful summer, believe God placed them on that train at that time so they could act out their faith, which turned them into international heroes. Their Christian faith is portrayed throughout the film.
Skarlatos, 25, who has since performed on "Dancing with the Stars," said all three men plan to pursue acting, thanks to the mentorship they received from Eastwood.