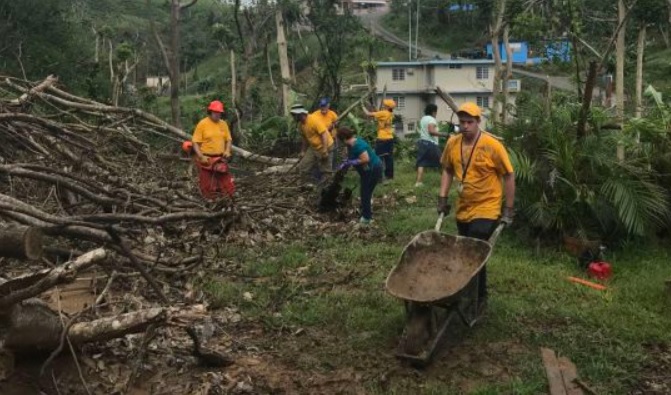 By Northwest Baptist Convention
A Northwest team sent to serve as a feeding unit spent much time helping Puerto Rican residents dig out from the effects of Hurricane Maria.
Jason Spurlin remembers feeling hit in the chest when he first heard mention of the need for responders to assist in Puerto Rico following Hurricane Maria.
"We were sitting at a banquet and Gary Floyd talked about the catastrophic damage done and the great need," said Spurlin, campus director at Mt. Hood Community College for Northwest Collegiate Ministries. He leaned toward Mt. Hood NCM intern Chaune Schaffer and whispered "We should go."
Schaffer, who had previously spent time in Puerto Rico, was all in. They joined friend Audrey Evans and seven other Northwest volunteers, including Northwest Disaster Relief director Gary Floyd, all willing to risk chaos and lack of provisions to make a difference in the name of Jesus.
"After we first met with Gary, he told us the projected cost and we began to pray," Spurlin said. "When we met again we couldn't come up with any reason not to go and determined to go until the door was closed. We just wanted to be ready on our end."
"We sent a video to our supporters and within 48 hours had people taking us under their wing with supplies," Schaffer said. "We saw such an outpouring of support and knew the Lord was making it clear and we didn't need to fear the possible things we would face, as we had the protection of the Lord."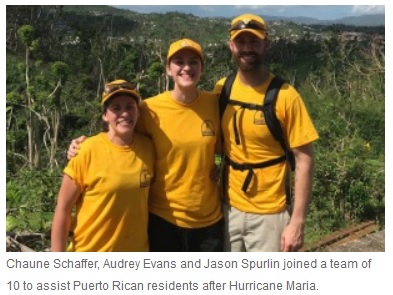 While the trio had no previous disaster relief experience, they joined others who were well-trained and learned volumes about becoming role models for the students they lead. After an expedited training session, they were met on the island by a wall of gold shirts, the official uniform of Southern Baptist Disaster Relief volunteers who travel the globe offering aid to people in crisis.
With work boots, mosquito nets and water purification systems in hand, the Northwest team was handed a paper map and sent out from San Juan to First Baptist Church of Humacao on the opposite side of the island. They found a very active and organized church, currently without a pastor, that sustained significant damage, but was ministering mightily to area residents.
"The people were so hospitable, grateful and generous," Schaffer recalled. "While we went there to serve on a feeding team, we only did that one morning. Each morning we loaded 2,300 meals delivered by FEMA into cars for distribution, but then we were sent out to various homes selected by church leaders. The home owners knew the projects to be done and we took our own initiative."
Chaune Schaffer, Audrey Evans and Jason Spurlin joined a team of 10 to assist Puerto Rican residents after Hurricane Maria.
"It was so cool that we were brought in as a food prep team, but God knew the folks that came could do manual labor," Spurlin noted. "We were able to encourage leaders of the church and God knew these people needed care."
The Northwest team was amazed and truly impacted by 73-year-old Margarita, who worked beside them at various sites in the heat of the day wielding a machete and wearing sandals.
"She expressed such gratitude and joy in spite of 50 days without power," said Spurlin. She does mission work, jail ministry and more and just exemplified a servant heart and was a true advocate."
The trio was equally impacted by their Northwest co-laborers, including Tyler Harmon, who sacrificed college classroom time to serve and Lonnie Odem, a general contractor and member of First Baptist Church of Longview, WA who joined the team.
"We worked around the church some days and helped individuals, such as one woman whose gate was down and had her belongings stolen," Schaffer said.
The mission turned into a vision trip for the Mt. Hood ministry leaders.
"We shared our experiences with 60 students after our return, Schaffer added. "We are able to be an example, to finish the hurdle and have open hands to say, 'Yes, we want to stay in touch with these needs and build on that.'"
Puerto Rico team members saw God's provision in their sense of community and the unification of the church, with men and women from different age groups working together in a different culture.
"We are all good friends and live life together, so being able to take this trip together was really special," said Evans.
Spurlin was particularly impacted by his association with older disaster relief volunteers.
"The older guys were encouraged by the younger people who joined the trip," said Spurlin. "They love the Lord and give so much and were inclusive and didn't look down on us. These are the men I aspire to be as I grow older. I had a sense of respect for these two women, but after watching Chaune and Audrey work, they never once complained, and my respect level went up incredibly."
While the purpose of the trip was not necessarily evangelistic, Spurlin had the added bonus of sharing the gospel on the flight home and was given permission to pray with his seatmate.
"It was beautiful that the Lord used us from the moment we left through the trip home."