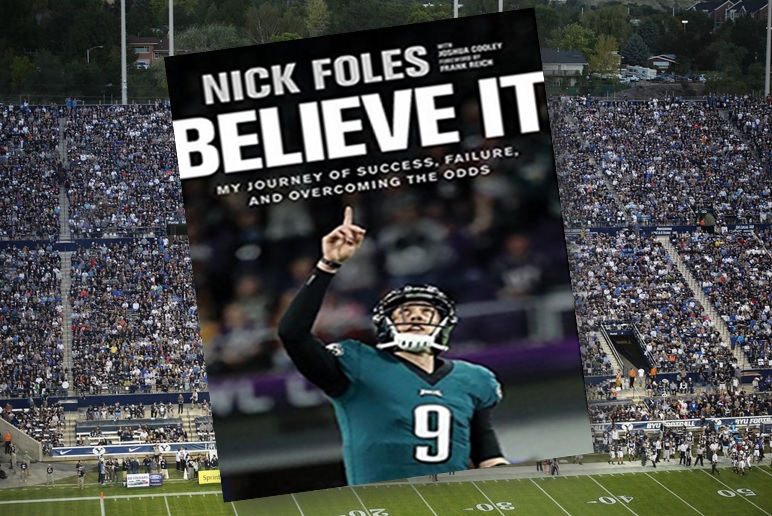 By Randy Alcorn
Eternal Perspectives Ministry
Ministry based in Sandy Oregon
Of the many fine young men I've gotten to know through the ministry of Pro Athletes Outreach (PAO), quarterback Nick Foles stands out as one of those most serious in his Christian faith. (See my past blog on Nick and Case Keenum, as well as some of Nick's Eagles teammates who know and love Jesus.)
Recently Nick's new book Believe It: My Journey of Success, Failure and Overcoming the Odds, was released. As of this Sunday it will debut at #5 on the New York Times Best Sellers list! With Josh Cooley's able help, Nick has told his story in a unique and memorable way that can be enjoyed by avid football fans and not so avid ones. I loved this book, which has excellent stories, honesty, and life lessons from a brother in Christ who is the real deal.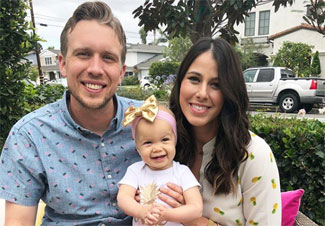 I consider Nick a good friend, and I respect but do not idolize him. (He's pictured here with his wonderful wife Tori and their adorable daughter Lily.) Part of what I love is that he has learned great life lessons not just from his success, but his failures. He talks about both in his book.
In addition to our exchanging a lot of texts, I've spent time with Nick in three locations, including our home. I've talked and prayed with him and each time I've been struck with his sincerity, humility and genuine desire to make a difference in people's lives for the glory of God. (After retiring from the NFL he wants to become a youth pastor—Super Bowl MVP looks pretty good on a youth pastor's resume.)
The book is well written and authentically portrays Nick's personal priorities and heart for others, especially young people. I've seen how he's interacted with my own grandsons. He has spoken into their lives on a spiritual basis, and I believe through this book he will speak powerfully into hundreds of thousands of other lives. One of the things I love in the book is how he honors his wife Tori and deals with her health struggles. They are both honest and open and don't airbrush life's challenges.
Here's more about the book:
Get ready to defy the odds when everyone's counting you out.

When the Philadelphia Eagles' starting quarterback went down with a torn ACL in week 14 of the 2017 NFL season, many fans—and commentators—assumed the Eagles' season was over.

Instead, Nick Foles came off the bench and, against all odds, led the Eagles to their first Super Bowl victory in history.

How did Nick get it done—winning MVP honors, silencing the critics, and shocking the world? How did the man who was on the verge of retiring just two seasons earlier stay optimistic and rally the team to an astounding win? How did he stay ready despite numerous trades and discouraging injuries, able to step up in the moment and perform at the top of his game?

Believe It offers a behind-the-scenes look at Nick's unlikely path to the Super Bowl, the obstacles that threatened to hold him back, his rediscovery of his love for the game, and the faith that grounded him through it all. Learn from the way Nick handled the trials and tribulations that made him into the man he is today—and discover a path to your own success.
Nick and Lily's photo after Super Bowl win and Nick was named MVP. This photo has been put in the NFL Hall of Fame, and Nick looks forward to taking Lily there to see it:
Here's an excerpt from Nick's book:
Everything in my life changed in the span of sixty seconds.

It was March 10, 2015, the official start of the NFL calendar. The 2014 season was already a distant memory, which was fine by me. After enjoying a record-setting second season with the Eagles in 2013, I had regressed some during my third season. My accuracy wasn't as sharp, and my overall statistics were nowhere near my earlier Pro Bowl level. To make matters worse, I had suffered a broken collarbone in a week eight win over Houston and missed the rest of the season.

Nevertheless, I was filled with excitement heading into 2015. Despite my statistical drop-off the year before, I had led the Eagles to a 6–2 record, and we had a solid core of players returning to a 10–6 team that had barely missed the playoffs. My collarbone had fully healed, and I was feeling better than ever. Hope abounded.

That morning I headed to Equinox, my off-season gym in Irvine, California, to play some basketball and work out. I had been a decent high school basketball player in Texas, and it was always nice to dust off those skills between NFL campaigns. I felt fluid and sharp as I played a little pickup and a couple of rounds of H-O-R-S-E with some gym buddies. Steph Curry's roster spot was by no means in jeopardy, but I was nailing some pretty crazy half-court shots. Everything was clicking. Eventually, the weight room beckoned. The earbuds went in, the country music went on, and the volume went up. (You can take the country boy out of Texas, but you can't take Texas out of the country boy.)

I was in the middle of a set of leg presses when my phone rang. Typically I don't answer my phone during workouts, but the caller ID read Chip Kelly, and when your head coach calls, you answer.

The regular season had been over for ten weeks. My last conversation with Chip had been our exit meeting in early January before I left for the off-season. I assumed he wanted to check on my collarbone and my overall progress—maybe even discuss his roster-building plans.

Boy, was I wrong.

The call started out benignly enough. "Hey, Chip. What's up?"

"Hey, Nick. How are you feeling?"

"I feel great. I'm in the best shape of my life." And I meant it. "I'm really excited about this season and this team."

Chip told me he was happy to hear that, and then he talked a little about how the team was building for the future. Then, out of nowhere, came the fifty-foot swell.

"Nick, I'm actually calling to tell you that we've traded you to the St. Louis Rams for Sam Bradford. I wanted to be the one to let you know. Thanks for all you've done for this organization and for me personally. I wish you the best of luck."

Chip's tone was steady and measured—almost Belichickian—a stark contrast to what I was feeling. I stood up, faced the window, and blinked, unable to find words.

I'd loved playing in Chip's rapid-fire offense. We had so many dynamic weapons on the team—Riley Cooper, Zach Ertz, Jeremy Maclin, Jordan Matthews, LeSean McCoy, Darren Sproles. Besides, my wife, Tori, and I had quickly grown to love the city of Philadelphia, and we were excited about diving into community work there. We wanted to plant deep roots.

Now those dreams were being dashed in a matter of seconds. I was flabbergasted. What was I supposed to say? Like Barry Sanders in the open field, eloquent words escaped me.

"Well," I stammered, "thanks for the call. Obviously, I want to be in Philly, but I understand."

Did I?

With all the graciousness I could muster, I said, "I'm truly grateful for my time with the Eagles. I wish you the best."

Chip informed me that I'd be getting a call from Rams head coach Jeff Fisher soon. Then we hung up.

I looked at my phone. The call had lasted exactly one minute. I stood frozen at the leg-press station, my body numb. Off-season trades are commonplace in the NFL, but you never think it's going to be you.

What just happened?

One moment I was planning my future as the franchise quarterback for the Eagles. The next, my world was like a merry-go-round flying off its axis.

Sure enough, Jeff Fisher called a minute later to welcome me to the Rams. I tried to sound enthusiastic, but honestly I was faking it.

After we wrapped up the call, I ditched the rest of my workout. Whatever motivation I'd had that morning had evaporated. I called home and broke the news to Tori; then I called my dad.

The next day I flew to St. Louis to meet my new coaches, undergo a physical, and hold a press conference.

For the first time, I started to grasp a harsh reality: the NFL was a business, and I was an expendable commodity.

Everything I'd been working toward in Philadelphia had suddenly been stripped away.

None of this was part of my plan.
Read a longer excerpt here. Also, make sure you check out this interview with Nick on Sports Spectrum, one of my favorite sites. Nick shares his reason for writing a book, how close he was to retiring from the NFL, cultivating a culture of faith in the locker room, going from MVP to backup, and why he doesn't want to be called a "starting quarterback." And here's an article about Nick's wife Tori, and her struggle with POTS, a little-known disorder.
Here's how Nick Foles won over my wife Nanci: if you love our dog Maggie, and love our grandsons (three not present, but Ty and Jake are in the photo), then you're family!