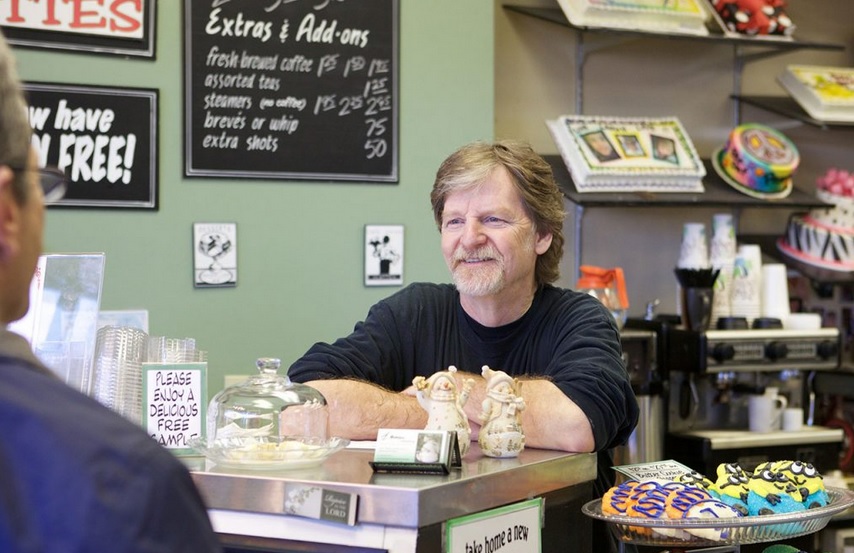 Oregon Faith News Note,
Within weeks of winning at the Supreme Court, Christian baker, Jack Phillips of Masterpiece Cakeshop, is being targeted again by the same local government on new charges of discrimination. The new charges are based on an attorney calling Masterpiece Bakery and asking him to create a cake celebrating a sex transition. The attorney wanted the cake to be pink on the inside and blue on the outside. Jack Phillips declined citing his religious beliefs. Jack Phillips has gone as far as to respond with a federal lawsuit against the Colorado Civil Rights Commission. Phillips says he is being targeted as part of a campaign to destroy him.
#1. Here is part of the case of discrimination against Jack Phillips by the Colorado Department of Regulatory Agencies.
"The Complainant alleges that on or about June 26, 2017, she was denied full and equal enjoyment of a place of public accommodation based on her sex (female) and/or transgender status (gender identity). The Respondent denies the allegation of discrimination and contends that it will not design custom cakes that express or celebrate events at odds with its owner and staff's religious beliefs. "
#2. Here is a statement from  the Alliance for Defending Freedom lawsuit against the Colorado Civil Rights Commission:
Imagine for a moment that you are a public servant who has taken an oath to defend and uphold the Constitution. Now imagine that the Supreme Court of the United States admonished you and your colleagues for actions they deemed unconstitutional in a 7-2 landmark decision.

Would you be humbled? Would you make a good-faith effort to change the policies and behavior that put you at the mercy of the nation's highest court? Most of us would. But this does not seem to be the case for some acting on behalf of the state of Colorado.

In Masterpiece Cakeshop v. Colorado Civil Rights Commission, the Supreme Court called out state officials for acting with hostility towards Jack Phillips, a cake artist in the Denver area who declined to design a custom cake celebrating a same-sex wedding.

The Court found that the state of Colorado violated Jack's free exercise of religion. In fact, the majority found the government's actions so hostile and so biased that it did not need to consider any of Jack's free-speech claims.

So what has Colorado done to remedy what the Court called its "impermissible religious hostility"? Absolutely nothing. In fact, less than one month after the Masterpiece decision, state officials targeted the very same individual who beat them before the Supreme Court.

It is beyond belief.

Jack has spent six years battling the state for simply declining to express a message that conflicts with his religious beliefs. Now, right after the Supreme Court has given him the justice he deserves, the state of Colorado has decided to pursue a second claim against Jack. This one is even more baseless than the first.

In June of 2017, the very day that the Supreme Court decided to hear Masterpiece, a local attorney asked Jack to design a custom pink-and-blue cake to celebrate his gender transition, a request that Jack politely declined. Of course, Jack serves everyone. He just cannot express all messages, especially those that conflict with his Christian beliefs. Jack has never created a cake expressing this message for anyone.

Still, Colorado has decided to use this case to target Jack a second time.