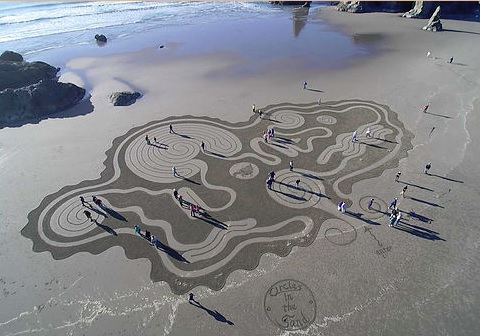 By Faith News Note,
The meditation beach labyrinth ministry made the front page of the state's largest newspaper "'Circles in the Sand' inspires crowds on the southern Oregon coast" and the local TV stations this weekend.  Since 2011 Denny Dyke has been working on his beach labyrinth ministry by creating meditative mazes and artistic circles on the beach. He calls them Sacred Journeys.
You can even order calendars of his beach labyrinth creations.
Denny Dyke's ministry websites explains it
The path of the first Dreamfield meandered through seven spirals and returned near the entrance. Today the Dreamfields have grown larger with a path meandering through a much larger pattern. Always with one path, no dead ends or no wrong turns and returning home. A true labyrinth experience on the sand.
One of the participants reminisced of the Dennyy's efforts, "Denny is just one of those people who makes people feel good. It's something that's obviously temporary, but it gives this personal experience to so many people."
Dyke said of his ministry, "Everybody comes out smiling. If they went in trying to figure out what it was, there is something about walking for 20 minutes not having to make a decision. All you have to do is follow the path. You don't have to worry about your kids. They are safely on the path, plus you are at the beach. You get in a meditative state even if you don't know what that is."
Denny Dyke's maze ministry is also available for  local events such as funerals, weddings, reunions, birthdays, and anniversaries.