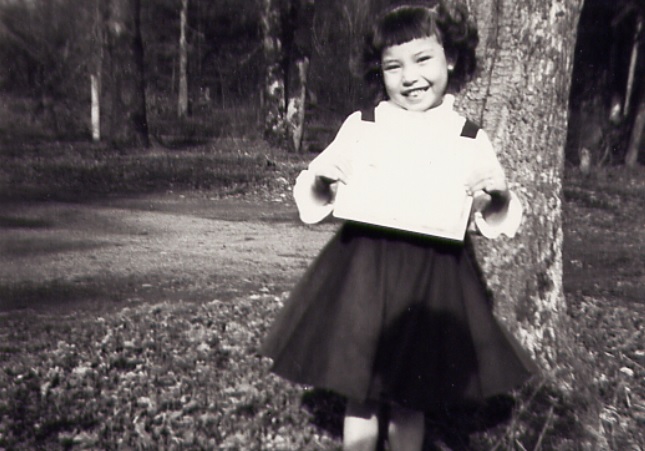 by Robin Munro
Holt International, Eugene, OR
(Photo "Susie" on her citizenship day)
I was born in Korea and named Hong Soon Keum. When I was 5 years old, I was adopted and came to the U.S. Here, I became Susan Gourley. I also became a daughter, sister, cousin, and a part of the community that was now my home. I did not have American citizenship by birth, but through adoption, I acquired both a family and the nationality of my adopted country.
I was too young to understand the steps my parents had to go through to make it possible for their daughter to become a citizen. But all these years later, I still remember it was a big deal. I remember my parents smiling and telling me what a big day it was for our family. I wanted to be like my parents. I wanted to be an American. In truth, I don't recall the trip to the courthouse or the formality of the ceremony. What I do remember is the red corduroy jumper my mom made especially for me to wear that day. One of my favorite childhood pictures is of me in my red jumper, proudly holding my new citizenship certificate. In our family, it was always referred to as "Susie's citizenship day picture."
I have never taken my citizenship for granted. My father was in the Navy during World War II and, while he rarely spoke of it, his love and pride of country was clear and he passed that on to his children.
When I was in the tenth grade, I won a Veterans Day essay contest about what the flag and being an American meant to me. Recently, I have met a number of Korean War veterans and always, I feel a profound sense of gratitude and connection to this generation of soldiers — a generation that reminds me so much of my father.
In a few days, it will be July Fourth — Independence Day. While I enjoy the celebrations and the fireworks, I always try to pause and remember what this holiday represents to me. As a little girl, I did not leave Korea to come to America; I left Korea to come to a family. I am proudly connected to both nationalities by birth and by adoption, but I am truly an American citizen. I feel profound gratitude that this holiday celebrates me, and thousands of others who are American citizens — not by birth, but by choice.
This is my citizenship story and I would love to know yours! Please share your citizenship story and include your citizenship photo.
Susan Soonkeum Cox | Vice President of Policy & External Affairs
#mycitizenshipstory
#shareyourcitizenship
#howibecameacitizen
#celebratingmycitizenship