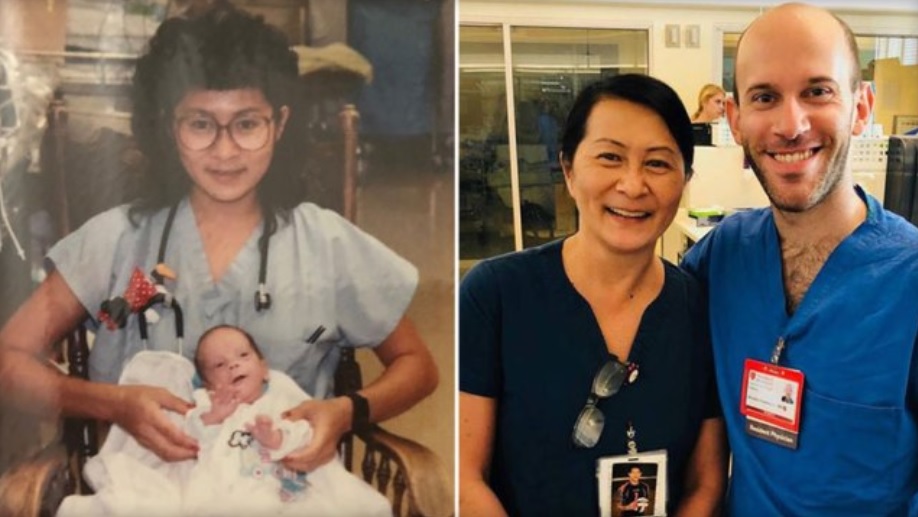 By Oregon Optimist,
It was a blast from the past when Brandon Seminatore, a doctor, and nurse Vilma Wong reconnected.
Wong, 54, has worked as a neonatal nurse for 32 years at the hospital in Palo Alto, California.
One day, curiousity catapulted at her brain after she saw the name Seminatore on a young doctor's ID badge.
Approximately, 30 years ago, there was a premature baby with the same last name Wong cared for. The baby weighed 2 pounds and 6 ounces and was born at 29 weeks on April 19, 1990.
After Seminatore settled into his job, Wong had asked Seminatore about his background.
"She asked me if I grew up in this area, he said. "I said, 'yes I was actually born in this hospital.'"
Wong knew the name sounded familar. "I kept asking where he was from and he told me that he was from San Jose, California, and that, as a matter of fact, he was a premature baby born at our hospital," Wong said. "I then got very suspicious because I remember being the primary nurse to a baby with the same last name."
Seminatore's mother told him about a nurse she and his father bonded with during his time in the Neonatal Intensive Care Unit (NICU) for 40 days.
Another nurse worked with Wong. His mother had urged him to find both nurses when he was on his month-long rotation at the hospital's NICU. "They were wonderful nurses," his mom, Laura Seminatore said. "They helped calm a lot of our fears."
"My mother said, 'look for Vilma,' he recalled. "She was our favorite nurse. She took care of you."
Very soon, Seminatore questioned if he knew this nurse and Wong was still suspicious.
"There was a big silence," Wong said. "And then he asked if I was Vilma."
Seminatore immediately texted his parents when he and Wong reunited in the NICU.
Recently, the nurse and doctor took a photo together in the NICU. Now, Seminatore is a few inches taller and wearing scrubs. Both have elated smiles on their faces.
Wong is not considering retirement any time soon because she loves her job too much.
"As a nurse, it's kind of like your reward," she said. Seminatore agrees. "She cares deeply for her patients, to the point that she was able to remember a patient's name almost three decades later."
It was such an awe-inspiring event for Seminatore and Wong that both not stop smiling.
"In the end I didn't have to look for Vilma," he said. "She found me. We smiled that whole day."