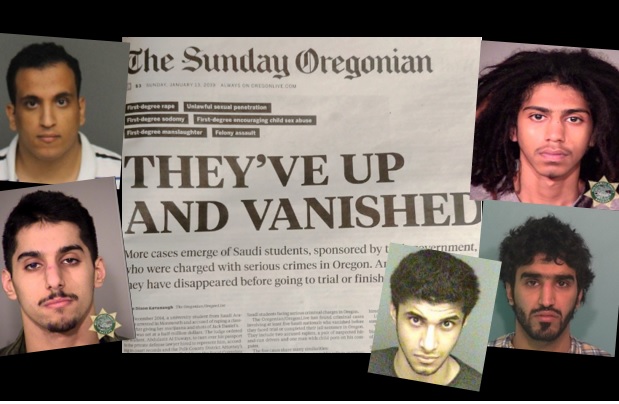 By Jim Miller:
The Oregonian has now uncovered five different Saudi Oregon students who have vanished after they were charged for various crimes.  They are believed to have received help from the Saudi Arabia government in their escape from America. These escapes were uncovered by reporter, Shane Dixon Kavanaugh, and were featured prominently as full front page news in the Sunday Oregonian (Please read full story here).  The case has made international news.
Here are the details in case you may know of details of the suspects whereabouts or escape:

 Abdulrahman Sameer Noorah
– Charged with manslaughter for reckless driving
– Saudi Consulate paid $100,000 for bail.
– Noorah's ankle bracelet monitor was cut and he disappeared
– He is suspected of taking a private plane with a newly created passport out of the United States
 Abdulaziz Al Duways
– Western Oregon University student charged with rape
– L.A. Saudi Consulate posted $50,000 bail
– Dunways disappeared and di not make court appearance
Waleed Ali Alharthi
– Oregon State University student accused of possessing child pornography.
– Saudi Consulate posted $50,000 bail. Surrendered passport.
– Missed court hearing. Last seen leaving on a plane from Mexico City.
Suliman Ali Algwaiz
– Portland State University student Convicted of assault and DUI
– $31,000 Bail provided by sister
– Fled country before sentencing
Ali Hussain Alhamoud
– Oregon State University student charged with sexual assault
– Saudi government provided bail
– Flew out of Portland the day of his bail