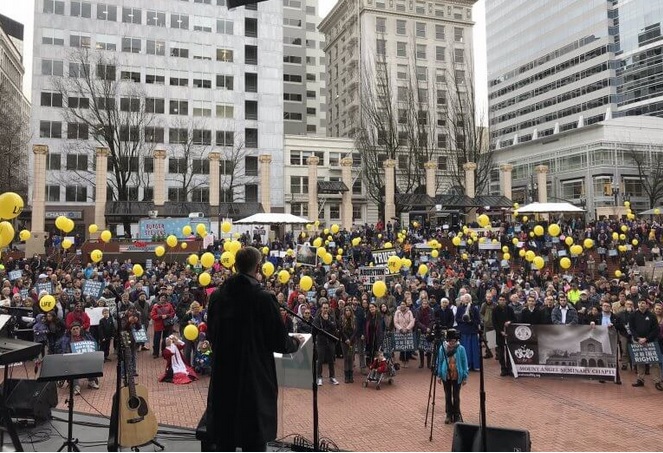 Oregon Right to Life Press Release,
The Portland Tribune and OPB trivialized and distorted Oregon Right to Life's annual Roe v. Wade Memorial & March in downtown Portland, while other media outlets ignored it entirely. Despite over 1,000 pro-life Oregonians attending, the Portland Tribune described the event as "sparsely-attended" and OPB called the attendees "a handful of visible opponents" to a non-permitted, counter protest of less than 100 people which was organized by Portland's socialist groups. The Portland Tribune originally described the pro-life crowd as "outnumbered" but removed that word after photos were sent showing otherwise.
"I have heard people say that journalism is dead," says Liberty Pike, ORTL communications director and emcee of the event, "After today, I believe it. One member of the media refused to interview me for our side of the story. She then came back and aggressively said, 'You have thirty seconds, what do you got? Give it your best shot.' I asked her what outlet she was with and she refused and insisted I 'give it my best shot.' I asked again who she was with and she stormed off."
Three other reporters were approached by ORTL staff offering an interview and rejected the chance to write a balanced story.
"It's gross negligence," said Pike. "Today, Oregonians made time in their lives to come and share their beliefs in the public square, literally. What little media did come went to great lengths to make sure only one side of the conversation had accurate representation. They should be ashamed to call themselves journalists. Thankfully, we don't need them as much as we used to. Social media and cameras are in everyone's pockets."